Dreaming big… (17/5/11)
It's exciting to get in at the ground level on a project, and last week that's what I was able to do.
The paediatric facilities here at Kijabe are currently somewhat… how does one say this kindly? Hodge-podge. Like any facility with uncertain funding, it started out humbly and has been expanded as need and money have coincided.
The outpatient facilities are basic, without enough rooms to see the patients efficiently. The adult casualty (emergency) department, with its 8 beds, will quickly take care of a critically ill child, if there is room, but finding the correct sized pediatric equipment amidst the adult-focussed space takes a miracle.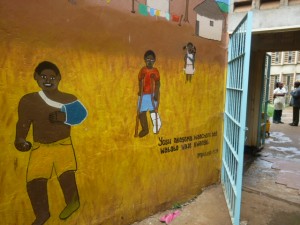 The inpatient paediatric unit (top left) has beds for 40+ paediatric surgical patients and medical patients, with 2-8 patients per bay. The inpatient facilities are crowded, with patients often in hallways. A resuscitation for a suddenly deteriorating patient takes place on the patient's bed in a shared ward with 7 other anxious patients and their families watching – if the nurses can find the crash cart, and if it's adequately stocked.
To reach the other inpatient children, you then walk outside past the toilets and the washing line….
… past the tent that currently houses rehab facilities (it really is a tent, with a tin roof), to the "Amazing Baby Centre" annex (below) where 20+ neurosurgical children stay. Over 1000 neurosurgical procedures are done every year here, including over 500 VP shunt insertions.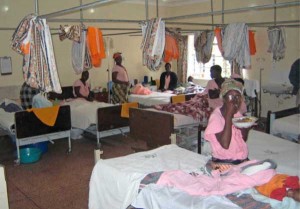 There is no office space at all – if any of us want to study or do paperwork, we find a spare chair in a corner of the ward, beg for use of the ward clerk's computer or go down to the hospital basement conference room to try and teach.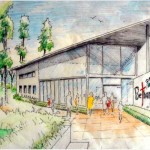 So when one of the paediatric surgeons asked Jennifer, Immaculate and me to look at the plans for the new paediatric wing, it was like Christmas morning for me.
Bethany Kids is a US charity which runs the surgical side of paediatrics here at Kijabe, and is in the process of finalising plans for our new wing. This wing will increase our bed count from 67 to 80 with 2 treatment/resuscitation rooms and a high dependency unit (HDU), as well as a much needed expanded outpatient clinic area / emergency department. It will be like a mini-Children's Hospital within AIC Kijabe Hospital.
It is such a joy to be able to be a part of the discussion – how should a resus room look? Have we thought about pandemics and can we make sure the bays can be cordoned off from others? How will traffic flow work between HDU and the operating theatre? These questions make me so excited.
These plans are at least 2 years away from fruition – and in Africa, that usually means more like 5-10. So I don't know if I'll ever see it – but it is so much fun to dream, to want excellence, to care about the future of a place I've only just met.
M.