Our new car (24/5/11)
Executive summary for the women:  We bought a car.  The car seats fit (it even has baby bolts), and it is silvery-white).
Full text for the men:
Well, not "new", exactly!
We've been looking and praying for the right car that fit the following criteria:
-put a beefy chunk of metal between us and a potentially unsafe Kenyan driver
-4WD (essential for navigating some Kenyan roads, and even some of Kijabe's!)
-7 seater (to carry our family + guests/visitors/friends)
-A Goldilocks engine:  not too big or too small, just the right size
-Preferably a Toyota and not a Land Rover (better maintenance and reliability)
-Stereo with an aux out jack to plug our iphone into (a serious consideration)
-not too flashy or pimped out (carjackings and theft are not unusual here)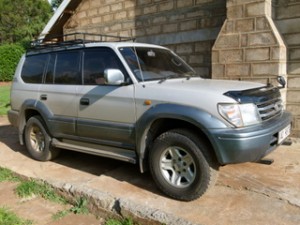 We were fortunate to be introduced to Kamal, a man who runs the mechanic and tourism shop at NEGST in Nairobi, and who acts as a buyer's or seller's agents for folks who want cars…we gave him our requirements, and he found us this car in two weeks!
It's a 1997 Toyota Prado TX diesel 3.0L.  Imported from Japan in 2004 (most cars are), and in good shape.  4WD's cost roughly here what they do in Australia (which is to say they are very expensive, compared with the USA), and we were pleased to get an older car in very good shape for a reasonable price.
We took it off road in Hells Gate National Park yesterday, and it did brilliantly.
We have wheels!
2 comments