Ups and downs (9/6/11)
This Wednesday at work I was on call.  That means I worked in the nursery during the afternoon, and then from 5pm to 7am was available by phone to help the intern, and to go into the hospital if necessary.
I  discovered on rounds that baby Victor, who was born at 1100 grams over a month ago, was finally, like a champion, tolerating all of his nutrition without vomiting and was gaining weight.  Mama Victor, who has been expressing breast milk and feeding it to her son through a tube every 2 hours without fail for a month, gave me one of her lovely smiles as we understood that maybe we were approaching the home stretch.
I found out in the morning before I started work that sweet Mary, who was born with gastroschisis (protruding intestines without a covering) had died overnight.  We lacked the proper nutrition for her, and babies can't just live on salt and sugar.  She never had a great chance, but nonetheless we had hoped that maybe, this time, we'd be able to get what we needed, and maybe she'd be the one to make it.
As I was leaving the nursery at the end of the day, a nurse ran up to me and said "You are needed now".  Baby Ruth, snuggling skin-to-skin with mum, had stopped breathing and was blue.  We pumped air into her lungs, and as her heart rate dropped we compressed her chest.  And then an indignant cry, a returning pinkness – our tiniest baby fighting back for another chance.
At 9pm a jaundiced, dehydrated but not critically unwell sounding baby was admitted to the nursery.  At 2am I was walking over the hospital because the intern thought he had deteriorated.  At 3:15am, after over an hour of tubes and needles, fluids and drugs, I pronounced him dead.  It's not pronouncing a baby dead that's the hard part.  It's telling mum and dad who 8 hours earlier had brought their baby to Kijabe with a concerns of poor feeding and high hopes for help.  It's struggling to answer their questions out loud, while silently trying to answer the questions you are asking yourself – about what you could have done differently, what you could have done if they had come earlier, what you could have done if you just had… more.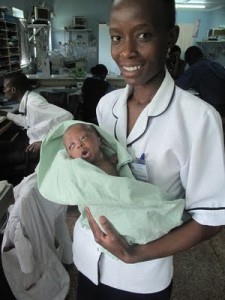 And on the way home at 4am, I glimpsed baby Mary (right), abandoned at 29 weeks and 855 grams – who, at a hefty 2.7kg, celebrated her 3 month birthday this week boarding in our nursery.  Her uncle is navigating the bureaucratic labyrinth that is Kenyan social work in order to take her home to be near her mother who, in her grief and shame at not carrying yet another baby to term, told her friends and family that her baby had died and returned home to her husband alone.
Ups and downs.  Victories and defeats.  Gratitude and grief.
And then again tomorrow.
M.