Meet the crew! (11/6/11)
Just thought I'd introduce you to some of the fantastic team at AIC Kijabe Hospital.  These guys make working here such a joy…
First, here's Jennifer.   Jennifer and her husband Scott (a GP with more skills than you can shake a stick at) moved here in January.   Before coming here, they were in Bundibugyo, Uganda, from 1993-2011 where they were physicians and team leaders for World Harvest Mission.  One of the reasons for the move was to be closer to their 3 youngest children who attend RVA, the missionary boarding school just up the hill from us (their oldest son just started his first year of college in the US).
Jennifer has an obvious, genuine love for the babies and the mums we come across here ,  a passion for excellence and is one of those women who just does it all, and does it well.  She has crazy curly brown hair which I imagine requires a lot of taming!  I am grateful to have her as a colleague and friend, and both of us are starting to get a glimpse of what we can be as a team since we'll be here together for at least 2 years.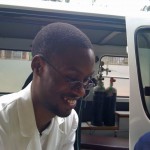 This is Bob, our paediatric CO.  After 3 years of medical school and an intern year, Bob has a medical diploma (like a PA in the US) is here for his 3 years of paediatric training (equivalent almost to US residency, or Australian basic training).
Bob met his gorgeous wife Lillian here (also a paediatric trainee) and they married a year ago.  He is the glue that has held the nursery team together through the transitions of the last 6 months, training both Jennifer and myself in the what we have, what we can afford, and what is realistic here.  He will be here for the next 2 years, and hopes that we can give his somewhat nebulous training goals more definition, direction and oversight.  If all graduates of Kenyan PA schools are like him and don't leave for greener pastures, I have high hopes for Kenyan health care down the road.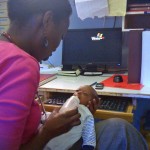 Here is Anne, our intern.  She graduated from medical school last year, and will be rotating with the other 3 interns through all the departments of the hospital, currently the nursery.  She is a delight to work with, has a ready smile and a humble confidence that just makes being around her a joy.  She and Bob see all the babies in the nursery before I start and come up with a plan for each of them for the day – there is often very little to add to their assessment and plan as they are so competent.  She also has a hunger to learn that is infectious, and challenges me as I teach her to go deeper in my understanding.
Finally, this is Immaculate, the other paediatric consultant who has done training both here and at Oxford, and is employed by the Kenyan government to be the paediatrician for Kijabe, all the outlying attached clinics and the community as a whole.  So she is paid full time to be about 3 paediatricians, and commutes 90+ minutes from Nairobi every day to do it.  Jennifer and I being here in support makes her job less impossible.  Immaculate has a ready smile, a mind like a steel trap and a passion for education – together with Jennifer and myself, we are hoping to really make a difference in nursing prowess on the paeds ward and depth of knowledge in the trainee doctors here.  Currently Immaculate is in charge of the paediatric inpatients and clinic – in August, we will switch so that Immaculate covers the nursery, and Jennifer and I cover paeds.
Just thought I'd show you my gang!
– M.