Little scars (13/9/11)
For over 2 months, we have been watching baby Shunetra grow.
Although Shunetra wasn't that premature, she was born very, very small for how long she'd been growing – under 1kg at birth.  She had a tenuous but determined hold on life – another one of our 2-steps-forward, 1.9-steps-back kind of babies.
We like babies to gain at least 20 grams a day when they're in the nursery – Shunetra took about a month to just get back to her birth weight after losing weight.  Every time we would feed her, she'd tolerate some feeds, and vomit others.  She'd have days with no weight gain at all, and then maybe 10 grams here, 20 grams there.  She had a severe blood infection and meningitis.  And then both of her knees filled with pus, requiring our anxious anaesthetists and orthopedic surgeons to take her to the operating theatre to use tiny needles and the smallest scalpels to drain her infection, leaving teeny tiny scars on her knees.
Despite her setbacks, she has clung to life.  Slowly tolerating feeds via a tube down her nose.  Learning to swallow from a syringe.  Finally, wonderfully, breastfeeding.  Starting to interact with her dedicated mother whose hope in Shunetra has never flagged.
For the last 2 weeks, almost every other day I've been to visit the nursery, because Shunetra was finally approaching the home stretch.  Once a baby reaches 2kg, we celebrate the milestone by letting them go home.  And each day Shunetra has been 1800 grams, 1840, 1860…  and finally 2000 grams.  Graduation day!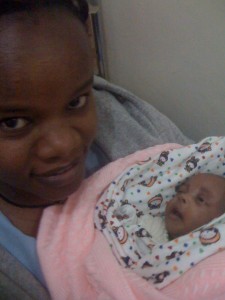 Shunetra's mum opted to stay an extra day or two, just to make sure she was 2000 grams and staying there.  This remarkable woman has been hand expressing breast milk every 2 hours, sleeping in the maternity ward as a boarder, for 2 months.  Having lost her first baby at 8 months of pregnancy, Esther has determinedly been at Shunetra's side, noticing problems before we did, buying her own thermometer to check her temperature when she felt warm, pointing out her knees to us when the signs were still subtle.  Esther and Shunetra had become a part of our nursery, a fixture that we enjoyed but couldn't wait to reward with a one-way ticket home.
So I went in to see Shunetra for a final goodbye last Thursday – I took my camera to take this picture of this little princess with her mum.  Her bill came to AU$3000 – insurance covered $2000, and our needy patient's fund covered some of the remainder.  Jennifer sent out an SOS to some partners in Germany to see if they could add to our Needy Children's Fund to cover the rest of her bill.
It's so fulfilling to get to the end of a long, long road like this.  These mothers and babies become a stable part of our sometimes schizophrenic work days.  There is something reassuring about the daily check of "How is Shunetra today?  We are getting there!  We're on the home strait!"   There is nothing quite like seeing the tentative half-smile of a mother as we pass in the hallway become a grin because we have made it to the end together.
______________________________________________________
The next morning I got a text from Jennifer that Shunetra was dead.
She had been sleeping next to her mum, like the 5 previous nights, and had breastfed at 10pm.  When Esther woke at 1am wondering why Shunetra hadn't cried at the 2 hour point for her next feed, she found Shunetra next to her stiff and cold.  She ran to the nursery, but it was already too late.  She had been dead for some time.
Bewilderment.  Anger.  Complete disbelief.
I cannot imagine how Friday was for Esther.  A parade of condolences, a procession of tears.  As word spread among the doctors, nurses and chaplains who had been caring for Shunetra, all of us wanted to express to her our sympathy, to let her know we shared her pain.  I wanted to say something profound.  All I could say was "I am so sorry".  And cry with her.  And listen to her repeat monotonically her perplexed words – "I fed her at ten.  At 1 I woke up.  She was gone.  Wasn't I a good mother?"
We see so many children here.  Most of them get better quickly, with pretty basic medical intervention – the right tests, the right drugs and discharged home.  Those successes feel so small when a loss like this happens.   The more difficult the fight, the bigger the victory feels – and with Shunetra and Naomi, we had fought so hard and the impending victory was already a celebration in my mind.  And so the defeat just feels so much larger.
I don't really have a nice concluding paragraph this post.  No simple lesson learned.
Just a lingering sadness that other precious children will help to heal, while a little scar on my heart remains.
– M.