Grief (6/10/11)
I've been recovering from a rather enthusiastic 4 days of gastro, so instead of going for a ride a few days ago, I gave my bike a good clean.
I love cleaning my bike…there's just something about it that brings me joy. The first thing I do is get the bike wet and soapy…besides the red African dust that seems to accumulate everywhere, sweat and grime builds up in the crevices and needs to be removed regularly. Once I've sprayed degreaser on the front and rear derailleurs and pivot points to clean the gunk off, I give the bike a good soapy scrub, and hose it off.
Then it's time to remove the wheels, pull out the quick release skewers for soaking in degreaser, and give the wheels, tires, and spokes a good wash. Usually before I scrub the tires, I inspect them for embedded thorns and remove them–there is a yellow goo sealant in the tires which quickly seals a puncture if I do get one, but thorns stuck in the tires cause them to lose small amounts of air over time. They'll eventually go flat if I don't reinflate them.
As it was, this time I hadn't checked the tires for thorns even after I had reassembled the bike…when I was putting new lube on the chain, I happened to look down at my front tire and saw this head of a thorn sticking out.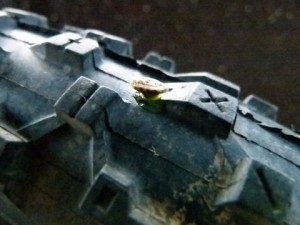 Hm, I thought. That's one ginormous thorn. As you can see, the yellow goo had sealed around the thorn, preventing loss of large amounts of air…worst case, if I leave it in, I'll just have to keep adding air every time I ride. If I pull it out, there's a chance that the hole will be too large to seal, and I'll have to patch or replace the tube, which is more effort than I am willing to put in today.
One thing is certain: I'll have to take the thorn out eventually.
So I pulled the thorn…and pulled, and pulled, and finally the whole thing was in my hand, nearly 2 inches long. The hole it left behind was huge, and yellow goo and air started spewing out of it. I spun the tire to let the goo coat the inside of the tube, and after about 1 minute it sealed the hole…whew. The tire was nearly flat now, but a few strokes with the pump and she's good as new, with a yellow goo patch.
I was reminded of The Ginormous Thorn at dinner, when Mardi and I were discussing how she works through the suffering and death that is part and parcel of her work as a pediatrician in an African hospital. The discussion turned to how I was processing my parents' recent divorce. I was reminded of how important it is to grieve well, and mourn properly things that should be mourned.
I have been mourning my parents' divorce for the past few months, and it has only been in the last few weeks that I started to notice that I am starting to move through my grief. I am not as filled with a gut-wrenching pain as I was a few months ago.
I think that if we don't allow ourselves to grieve, part of the grief-causing event stays with us, like that thorn in my bike tire. It is slowly letting the air out of us if we don't acknowledge that there is something there that needs to be pulled out into the light and identified for what it is: something awful, that should be mourned, and not ignored.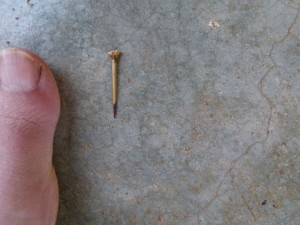 I have found in these past months that as I pull slowly pull the thorn of my grief out, I discover how big it is. I had no idea how deep my grief went. All sorts of things have come to the surface: anger, fury, humiliation, pride, shattered dreams, false images, deep sadness, confusion. And then, one day…the thorn is gone. My grief isn't nearly as present as it was several months ago. The hole will still be there, but it's a hole that's been scarred over and healed now that the thorn has been pulled out.
I am reminded of all of the Psalms of lament in the Old Testament, and of Jesus' words to an enormous crowd on a mountainside: In my kindgom, those who mourn are the happy ones (Matthew 5:4).  I remember that before there can be a resurrection, there must be a death.
And I wonder why I don't hear more people talking about the things they are grieving. Are we afraid that other people won't think we're 'spiritual' enough? Are we afraid people will think we lack 'faith' that one day things will be restored and made whole again? Are we afraid of being real?  Are we afraid people won't think we 'have it together'?
I don't know the answers to those questions, but I have noticed these past few months that acknowledging my grief and working through it–not trying to go around it, or leaping over it–has been simultaneously one of the most awful things I have ever experienced, and one of the most beautiful.  I am only now beginning to realise just how beautiful.
And I'm glad I pulled that thorn out.
– A.