Dadaab Part 2 – Hagadera Camp (2/10/11)
Let me introduce you to Abdi.  He is 8 years old, and has been referred to us for lumps.  On his left arm.  And under his armpit.  And another above his right collarbone.  One of the doctors in the camp recently removed one of the lumps, but we have no idea what was inside – was it pus?  Was it a decaying ball of cream cheese signifying TB?  Was it hard like a rock, worrisome for some form of cancer?
There is no paperwork to let us know.  And that, in itself is a bit of a worry to me.  Because if they found a lump as hard as a rock, the last thing you want to have up here is a piece of paper that says you may have cancer – because that means you have reached the end of the road as far as your options go.
You see, there isn't enough money to treat cancer in the camps – no matter what kind of cancer it is.  Every dollar designated for healthcare must do as much good as possible, and unfortunately cancer treatments are incredibly expensive for an uncertain return.
And so I quickly learned on this trip to not write the words "cancer", "tumor" or "neoplasm".  Any of those words mean that access to healthcare is severely limited.  Instead, we write "mass for investigation", because of course mass could mean cancer, but it could also mean infection, or foreign body, or anything else that can masquerade as a lump under the skin.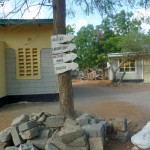 On this trip, Erik and I had the chance to sit down and chat with Ann Burton.  Anne is the current head of health for the camps with UNHCR.  A down-to-earth woman with a hybrid accent like all expats have here after a few months in a cultural melting pot, she turned out to be an Australian.  She asked me where I was from – turns out my accent has become pretty messed up too, unrecognisable by a fellow Aussie.
She explained that the UNHCR has the loaves-and-fishes task of taking a small pool of money designated for healthcare, and making it stretch, and stretch and stretch.  Sometimes the money comes to them packaged for "primary health care" – so they can't use it for surgery, or dentistry, or ophthalmology.  Sometimes they need pharmaceuticals, desperately – but the drug company gives what they have in excess, not what the camps really need.   Sometimes they need something – like soap – and they don't have funds that can be designated for THAT use.
She was somewhat surprised that Erik and I had approached her with some funds from SIM and BKKH and actually asked her what they needed.  And so we are going to be able to get some soap up to the camps in the next month, to be distributed with education on hygiene as malnourished children are discharged from the Stabilisation (refeeding) Centres.    We also talked about the possibility of increasing our medical assistance to the camp, in pediatric surgery, pediatrics, and general adult surgery – all areas of desperate need.
Back to Hakim – he'll get a biopsy next time our team is in the camp.   I really hope we can write on his record that we have diagnosed something that has been treated, and it is gone.
The Hagadera clinic was a bastion of efficiency, and we were grateful as it made a huge difference.  I don't know if it was a function of IRC being in charge of the camp, or just the staff being who they were, but it was like clockwork.  As soon as we had arrived, we went to the paediatric ward where the first 6 beds had patients lined up ready for minor surgeries (mostly testicles – conveniently accessible organs for surgery!).  Consents were signed, IV lines were in place, children had been weighed (I particularly liked that they couldn't escape the basket).  Lebbie had gone straight to the operating theatre to get started.
Erik and I went from the ward to the clinic next to  the Emergency Department to start seeing children.  There was a computer printout of which child was to be seen in what order, and every parent came in bearing a card with their appointed number.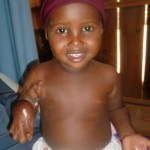 Erik and I saw around 50 children.  A 3 year old whose right arm and hand were badly burned as an infant, and whose skin has contracted as it scarred, leaving her unable to fully move her shoulder, elbow, wrist or fingers.  A 13 year old boy who was born with epispadias (where the urine comes out of the top of the penis rather that straight out the end) who has had surgery once at Kijabe already, but still needs at least another 1-2 procedures.  A 7 year old with a skin conditions that would get better by itself.
Too many children with orthopedic conditions – a 13 year old whose hip was dislocated 3 months ago during a football game, and has scarred into place outside of the socket.  A 6 year old girl with avascular necrosis of the femoral head – her thigh bone, right where the ball goes into the socket of the hip, lost its blood supply.  If it had been found early, maybe something could have been done, but it happened so long ago that her femur has fused with her hip and nothing can be done now until she is fully grown.  Even then it would mean a hip replacement, not exactly a primary care essential procedure out here where people use walking sticks for life after polio, poorly healed fractures, congenital deformities.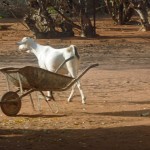 After clinic, Erik returned to the operating theatre to help Lebbie finish up the list.  I, being absolutely useless in the OR, was free to see what else the camp hospital had to offer.  The stabilisation unit is where malnourished children are brought to receive high-colorie milks through a nasogastric tube until they have enough energy to swallow milk on their own.  And then for the older children, to move onto high-calorie solid foods like Plumpy Nut, a delicious peanut butter based supplement.
I was also enamoured with the goats walking right past the front door of the maternity ward.  Because you never know, as a postpartum mother, when you're going to need some supplemental goat's milk or get a craving for some roast mbuzi.
– M.
____________________________________________
Next:  Dadaab Part 3 – Not Quite Dagahaley Camp
See also: Dadaab Part 1 – Ifo Camp