Dadaab Part 3 – not quite Dagahaley Camp (4/10/11)
There is nothing quite like travelling over 500 kilometres and being told that you can't do what you have come to do.  On Tuesday night, we found out that workers in the hospital at Dagahaley camp were striking and we would not be able to see children there on Wednesday morning.  There had been an altercation between some staff members which had turned violent, and the rumor was that 15 people were going to be fired, and thus they banded together to stop work.
Words cannot express our frustration.  Erik spent a good portion of the evening and the next morning on the phone – we did not want the children expecting to see us to be casualties of "friendly-fire", as it were.
And so the next morning, we finally got word – the strike was off.  There was only one staff member who was going to be fired, and all of his colleagues actually agreed with the decision, so they resumed work.  Except, we also found out, someone had been found with a gun in the camp that morning, and so for security reasons the camp was still closed to us.
Eventually, we were able to figure out a way to see the kids.  A bus arranged to bring the waiting children from the camp to Dadaab Hospital (the hospital serving the village and the aid workers) – and so finally, late morning, with a flight scheduled to depart at 3pm, we were able to see the 20-or-so children who had been ferried to us.
There is always one child in any given week who just grabs me – whose face I can't forget, whose story won't leave me.  And this visit, it was Marian.
Two of our neighbouring countries have had a very violent history.  In around 2002, many civilians including a 7 year old girl got in the way.  According to Marian's father, during a conflict, she was pushed into a fire with the motivation, he thinks, to burn her alive.
She was not burned alive, but her hands were badly, horrifically damaged.  And in a country where survival alone is difficult, optimal burn care for a little girl was nigh on impossible.  As the pain of injury faded, the skin started to heal.  Her body sent healing cells to replace the dead tissue on her fingers and hands with fresh new, collagen – but the process, without vigilance and therapy, causes irreversible stiffening and contraction of the skin.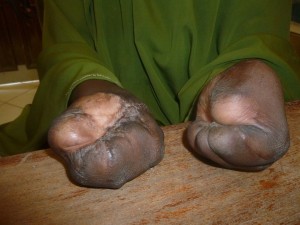 So for 9 years, these have been Marian's hands.  The fingers, if they were not burned away, are buried deep beneath the scar tissue.  And this beautiful girl has been unable to feed herself, dress herself, clean herself – completely dependent, as a teen who should be blossoming, on the assistance of others for absolutely everything.
So she is on our list to come back to Kijabe.  Dr Nthumba, our plastic surgeon, will have the task of answering many questions:  Are there fingers still there?  If they are there, are there still essential blood vessels and nerves that can make her fingers function again?  And if so, Marian may begin the long journey of restoration of hands that give her some semblance of independence.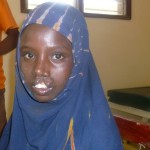 I am so grateful for the persistence of Erik and the team – we were so close to not seeing Marian at all this trip.  Or this 11 year old (pictured right), who was born with a cleft lip and is now on our list.  Or Ruwetha, a 2 month old who was born with something the camp doctors had never seen before but sure didn't look right – and turned out to have bladder exstrophy, which can be helped.  Or the two brothers we got to see whose cleft lips were  previously repaired in Kijabe, whose father's smile said more than any followup interview ever could.
So we never got to Dagahaley Camp, which I'm sure is run by MSF with the same dedication as the other camps.  But we got to see some of those who we needed to see, and we boarded our plane in the desert grateful that this opportunity had not been lost.
What struck me most about this time in Dadaab is the number of organisations, countries and ethnicities all working together for a common goal – despite the inevitable differences in funding, priority and bureaucracy.  I love seeing God's love and compassion in a secular setting – a part of God's nature displayed despite the often stark lack of acknowledgement of the sacred.  I love that God shows himself in unexpected places – in the beauty of nature, an oasis in the desert, the kindness of strangers.  And my prayer is that He will be recognised – in the middle of anguish, pain, conflict and suffering, that his presence will continue make itself known in the most surprising of circumstances.
– M.
_______________________________
See also:
Dadaab Part 1 – Ifo Camp
Dadaab Part 2 – Hagadera Camp