MacGyvering (10/10/11)
One of the frustrations of working in a resource-poor setting is that you don't always have…. well, resources.  Here are a couple of ingenious solutions that folk over here have come up with to circumvent what we lack.
Insulin, an essential daily drug for diabetics, has to be kept cool.  This is tricky in hot environments without electricity.  So the principle of evaporative cooling is our friend.  Lydia, our nurse educator, instructs families of diabetics on how to get a simple bucket, put in sand and charcoal and a metallic container, and then pour water into the sand/charcoal mix.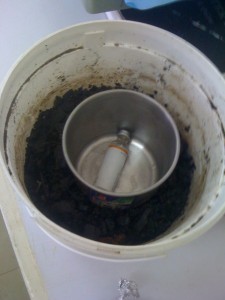 In simplest terms, when water evaporates, it draws energy and heat away which causes a cooling effect.  As long as water is kept in the bucket, the magic of thermodynamics keeps the centre, and the insulin, cool.   (physics afficionados, click here for the equations!).  An affordable, sustainable refrigerator, whose principles are used all over the world.
We also struggle to find good spacers to use with inhalers.  Adults can become adept very quickly at learning to take inhaled medication for asthma straight from the inhaler – but children are tricky, and infants are impossible.  Spacers help children breathe in the medication rather than swallow it, and a mask can be placed over an infant's face so they don't need to cooperate at all.  They are sold at pharmacies in the bigger villages and in Nairobi, but they are expensive and it means we can't teach families how to use them before they leave the hospital.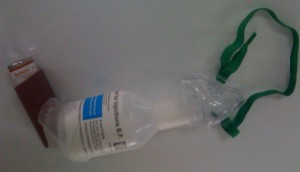 Fortunately, we didn't need to reinvent the wheel on this one.  Studies like this one have shown that using a 500mL soda bottle distributes the drug as effectively as a trademarked super-whamodyne spacer in children who are old enough to breathe well through their mouths and don't need a mask.  So here a hole is cut into either a drink or medication bottle for the older children.  For babies, we can get hold of oxygen masks relatively easily – so for one of our newborn babies in the nursery with chronic lung disease, this home-made spacer (pictured left) is at his bedside.
MacGyveriffic!
– M.
__________________________________________________________
p.s. If you were born after 1985 and don't know who MacGyver is, I am sorry for you – please click here to read all about his awesomeness and then go out and rent the series.