Thanksgiving (26/11/11)
Being an Australian in Kenya with a whole bunch of Americans means that we get the best of all the holidays.  And so this week, we celebrated Thanksgiving.
Actually, this whole month has been a month of Thankgiving for me.  When I sent out an email at the start of the month tentatively asking some friends if they'd like to join us for a Thanksgiving meal, there was an overwhelming "Yes!" response, and so for the last 3 weeks I have been looking forward to this meal, this excuse to take time out with dear people and say, thank you God –  I have a lot to be grateful for.
Turns out 20 people were going to be coming over for dinner and, since we're in Kenya, it was a normal workday for me.  So we divided up the meal – every family brought 1 or 2 dishes in quantities sufficient for an army.  From Jennifer, a way-t00-delicious-to-be-healthy pumpkin, pecan and brown sugar concoction, as well as chocolate-pecan and pumpkin-pecan pies; from Amanda and Erik a salad with a never-to-be-revealed-secret-ingredients delicious dressing as well as stuffing and a heavenly apple pie;  from Wayne and Anna a vat of laboriously hand-mashed creamy mashed potatoes (as well as their dining table and chairs!); from Ruth a cheesy-gooey-home-style green bean casserole and flaky rolls.  Andy took the day to prepare a rosemary-basil-garlic infused succulent 30-pound turkey and sweet corn, and of course to arrange the furniture to my liking (I am so grateful to have married a man who doesn't mind following a hand-drawn to-scale map of the dining room, including instructions as to how to alternate placemats….).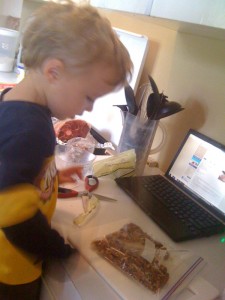 My contribution, with Liam's able assistance, was a pecan pie made a couple of days in advance.  He's crushing pecans in the photo – you can't see the mallet because he's hammering at the speed of light.  It came out of the oven looking delicious.  It tasted, however, kind of like goo made of sugar and nuts because, well, that's exactly what it is.
It is such a blessing to sit down with friends, to look around at these people, none of whom we'd met a year ago, and realise how much they have come to mean to us already.  For the sense of family that we have, when we miss our Australian and American families so much.  For colleagues who are also friends who share our heart and our passion for showing God's love to people who desperately need so much.  For their families, whose young children are friends to our kids and whose teen children give us hope that is IS possible to to turn tantruming two year olds into great human beings.
So, today I am happy to be reminded that I have so much to be thankful for each day.  For family and friends, near and far, in all their varied forms.
– M.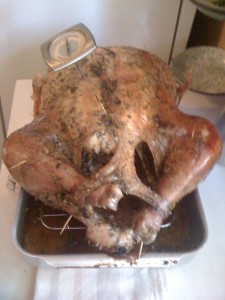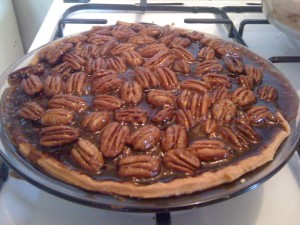 _______________________________
Next post: Seasons (1/12/11)
Previous post:  Miracle Babies (25/11/11)