On knowing my limits (7/2/12)
After 10 months here, I feel like we've finally hit our stride in our rhythm as a family here – Mummy time, hospital time, Andy's work time, time for updating friends and family via facebook and video, date time, worship time, hanging out with friends time.
In January, I realised how little reserve there is in that schedule when I tried to add teaching preschool to the juggling act of life here.  And by the end of the month, I felt like a terrible mother, a terrible wife and just a bit overwhelmed.
On the surface, it seems a little silly – all I was doing was teaching for 2 hours on a Tuesday, and 2 hours on a Wednesday.  But that, combined with the time it took on a Monday to actually prepare the lesson, crafts and stories, was enough to tip over my house of cards.
On Mondays, I felt like the half day of lesson prep meant that Bob and Larry from Veggie Tales were raising my kids.
On Tuesdays when I left Liam at home with Susan while I taught instead of going to playgroup together, I just felt like his toddler years were slipping away in front of me while I was teaching Riley's class.
On Wednesday mornings, I relished being in Riley's class and a part of her life while Liam had play time with Susan, but had to rush home at 11:30 to drop the kids off and be at work by noon, leaving me feeling exhausted at the end of Wednesday which is a busy 1/2 day teaching or attending noon conference, getting my head around the nursery patients and often covering the ward patients and outpatient clinic so Immaculate can spend the afternoon with a cardiologist furthering her training.
All of the mums of preschoolers teach the class for a couple of months of the school year.  Some of them are full time mothers and supporters of husbands who teach at RVA, some of them are teachers themselves who find a sub to teach their school classes so that they can be preschool teacher for a month or two – and all of them have out of school responsibilities to students as mentors, sports coaches or dorm parents.  And I really wanted to do my part – to participate in this precious time period of my daughter's life, and for the other mums to see me doing my share, that the "lower station" mums are not so different from them, are a part of their world.
But at the end of the month, I had to acknowledge that I don't want another month like this.  I am supposed to be teaching again in March.  Instead, I've asked my friend Stacy, whose daughter Lydia has just joined the preschool class, if she will teach for me instead.  She has graciously agreed to do it, and I am still hoping to help out once every week or two to be a part of Riley's life in school while I can – but I won't feel the pressure of needing to prepare and to leave Liam another 2 mornings a week.
It's interesting, the conflicting emotions that go with this – relief, that I can prioritise time with my kids during my non-work hours now.  Guilt, that Riley won't see me as her teacher as often as she sees her friends' mummies .  Lightness, that a burden has gone that felt really heavy.  Insecurity,  that I'm not quite "one of" the RVA mums whose community is so close knit and that it takes a while to feel a part of the circle, and that by not teaching in March I'm a little more of an outsider.  Joy, that I will be able to reconnect with the RVA mums in Liam's playgroup, who I've really missed over December and January.  Gratitude, that I live in a place where there are opportunities for community in so many arenas that I even need to think about saying "no".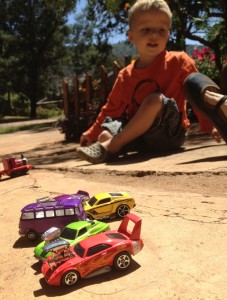 A few days after deciding not to be a preschool teacher again, I was asked to take on an additional administrative role at the hospital.  Again, the war of emotions and again, the realisation that I just can't do anything else right now and I needed to say no.
Saying no for me is really hard.  I want to please people, I want them to like me.  But I also know, that for every opportunity, I have to ask – am I the only person who can do this job?  And when I ask that about being a mother to my kids, I realise that the answer will always be – yes.  And in saying yes to that, I'm going to have to say no to some other things, and that's OK.   My kids will both be in full time school two years from now, and I'm pretty sure I'm not going to look back and wish I'd spent less time with them when I had the chance.
– M.