The Engineering Team's first update! (26/5/12)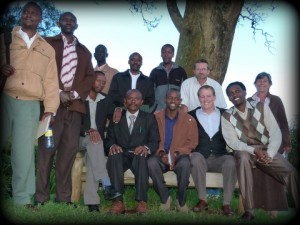 The Engineering and Facilities Team at Kijabe Hospital just published its first update newsletter!  I am so proud of our guys for developing, writing, and publishing this update.  Well done to John, Shammah, and Collins.
Click on the link below to read our very first update:
EF Quarterly Update Newsletter Final Edition
With so much changing at Kijabe Hospital, and so many new projects going on around the place, the Engineering team felt it was a good idea to put out a regular update for doctors, nurses, employees, and supporters of Kijabe Hospital.
The keen-eyed South Aussie may note some similarities in the newsletter between SA Water's Water Restrictions and our new Water Conservation Measures…
Our Medical Director describes working at Kijabe like trying to build an airplane while it's flying.  This is such an appropriate description, on multiple levels.  Most of the time we are just trying to keep up, providing essential medical services while we attempt to fix the fact that we don't have any water.  Or electricity goes off in the middle of a surgery, forcing our neurosurgeon to turn on his hiking head lamp and hold pressure on an open brain with his hands to prevent the patient from bleeding to death (true story).
If you don't remember this "Building Airplane While It's Flying" Superbowl commercial a few years ago, have a look at it here…and you get a very good snapshot of what it's like to work in a low-resource mission hospital!  In my experience this analogy also holds true for building churches and new businesses.
-A