So much has happened since we launched our website – we are so grateful to all of you who have signed up for our updates and for your offers of support.  We could not do this without the encouragement and partnership of our wonderful community across the world, and we feel strongly that we should not try to do this on our own.
We have had Andy's Mom and Dad visiting us over the last 3 weeks, and it has been wonderful to see Riley and Liam connecting with their grandparents in a physical, fun way, rather than just over skype.  What a joy to live in an age where the US and Australia are separated by 36 hours of plane time, rather than months at sea….  not sure whether Andy's folks would count it as pure joy at the end of their flight, but it is certainly an improvement over the alternative!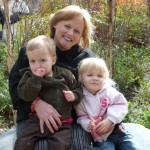 We have started taking our first major steps towards moving to Kenya in early to mid 2011 – April is our goal at this stage – the biggest of which is getting our house ready to sell.   We will be putting our home on the market in October,  and already this has meant saying goodbye to some sentimental things – our piano, baby clothes and linens….  the mums among you will know how that feels!  We would appreciate your prayers for our house to sell to the right people at the right time for the right price.   Our plan at this stage  (if the house sells quickly) is to move into a rental property until we leave.
Since we launched the website, we have found out a little more about the logistics of moving to Kenya.  We have started the process to apply for my medical license and our work permits.  We have also found out that we need to raise upfront travel, insurance and administrative expenses, as well as monthly support for housing and living expenses .  We would appreciate prayer for God to supply our needs so that we can go and serve as we feel called to do!
We are so grateful for all of your support, and excited to be continuing in this adventure.  We are hoping to send out email and blog updates at least once a month, with an official newsletter every quarter.  We have also been working on a glossy brochure, which should be available in the near future for people to have a hard copy reminder of what we'll be doing.
Until next time,
Gari langu linaloangama limejaa na mikunga
(My hovercraft is full of eels, in Swahili).