Our house is on the market!  After a month of preparation, we are ready for our first open inspections.  As the weather becomes more delightful (for those of us in the southern hemisphere), we are reflecting on how much we love this place and will miss it.
We would appreciate your prayers – we'd love our home to sell to people who'd be willing to rent it back to us until we leave in April, or for a furnished rental to be available for us until we leave.
We are now starting to apply for work permits as well as collating all the paperwork required for the Kenyan Medical Board – it is a time consuming process, but if we dot our i's and cross our t's we are hopeful things will process without too many complications.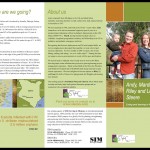 We've been working on a brochure, and have printed our first batch.  We hope it will provide people without regular internet access a way to learn more about what we're doing and contact us.  It is also fun to make paper airplanes with.   The ins and outs of the printing industry are new to us, and we would have been lost without Jaclyn Millhouse's expertise in helping us to navigate the waters of "bleed size" and "DPI"…  many thanks Jaclyn!
Now that we have our brochure, we will be getting out to some organisations, churches and home groups to chat with interested folk a bit more about what we're doing.  Please let us know if you'd like us to come for a visit to your organisation or group, or if you have friends who may be interested and you need some brochures.  We have lots.
A few of you have asked if Mardi's position is paid, and if not how we plan to feed our two hungry children.  And ourselves, for that matter.  For clarity, both Mardi and Andy are going in a volunteer capacity.  As such we will be self-funding, and are looking for interested partners who might like to participate in this work with us financially.
We have a target budget and are launching our fundraising efforts with the introduction of this brochure.  If you are interested in participating in this work financially, please click on our get involved page – there is a mindboggling array of options for support, and all links are now active!  Alternatively, these options are listed on the back of the brochure which can be detached and sent to us.
If you haven't seen it already, check out Southland Vineyard Church's website – they have recently added a new Missions Page.  It includes information about how Southland is serving the community both locally and abroad, as well as a link to our website.