Where we serve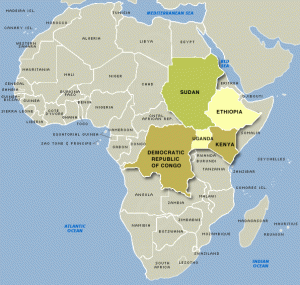 Kenya is located in East Africa and is bordered by Somalia, Ethiopia, Sudan, Uganda and Tanzania.
It has a population of over 36 million, with an average annual income of US$1475.
21% of children under 5 suffer from moderate to severe malnutrition, and about 12 out of every 100 children will die under the age of 5.
Around 1 in 100 women who deliver a child will die in childbirth and around 6% of the population aged over 15 years is infected with HIV.
(UNICEF).
In 2007, there were 2.5 million orphans.
Kijabe Hospital was founded in 1916 and is run by the Africa Inland Church, the largest Protestant denomination in Kenya. It is a 350-bed facility that has grown to become one of the most respected Kenyan hospitals offering care to poor and non-poor alike. The complex draws patients from all parts of Kenya, Somalia, Sudan and Uganda. A large percentage of patients are traditional Maasai pastoralists.
Click on this interactive map to see satellite pictures of where we are – drag the "A" to centre as you click "+" to zoom in.