Dedication of the water tank (10/8/14)
This is a post about gratitude, and taking time out to celebrate.
This week, the Hospital held a dedication ceremony for the water tank and new TB clinic, inviting staff and the Hospital Board to give thanks for the successful completion of these projects.  We were on long-scheduled annual leave in Naivasha, and so I almost didn't attend.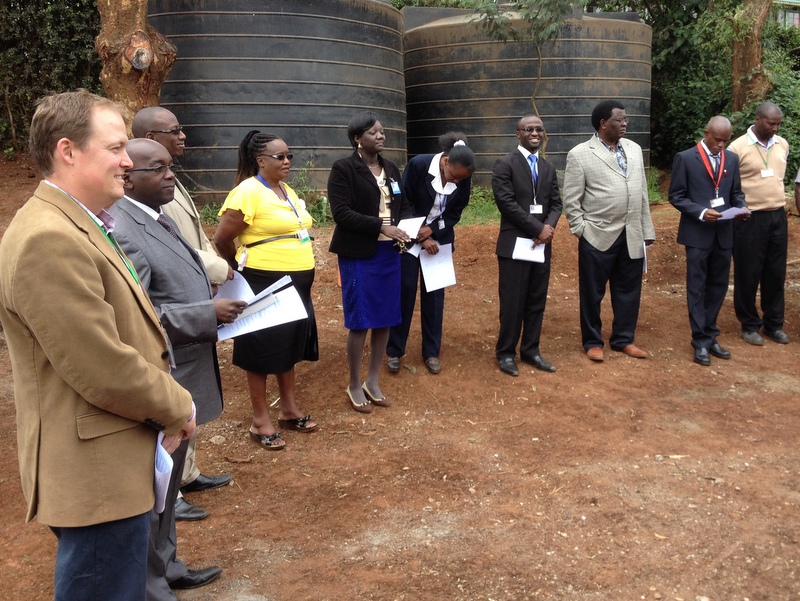 It was a moving ceremony.  Short speeches by some of the Hospital leaders, formal acknowledgement of the role of key people, and a time of prayer, worship, and thanks-giving.
I'm not good at taking time out to celebrate.  I'm wired–as an engineer and a task-oriented person–to move from one project to the next, from one task to the next one.
Strangely, when we moved to Kenya, this habit did not suddenly disappear.
So when the testing of the water tank was complete a few weeks ago and the water started flowing, I thought, "What's next?", and without taking a breath moved on immediately:  to the Medical Gases Project, the Sanitation Project, working with our team here in Kijabe to develop a new team structure, and taking up some slack in the home as Mardi got caught up in juggling keeping the hospital afloat with visiting doctors and Ebola planning.
Aug 2014 Water Tank Dedication from Andrew Steere on Vimeo.
I took a breath at this ceremony – I had a chance to celebrate this project and the significant amount of work that was put into it by a team of people from around the world.
And do you know what?  I was moved to tears as I reflected on all of the people who have been a part of this project.  People from the US, Canada, Great Britain, China, Australia, and Denmark.  People without whom there would still be a water crisis at Kijabe Hospital.
And I hope they have the opportunity to celebrate this project also.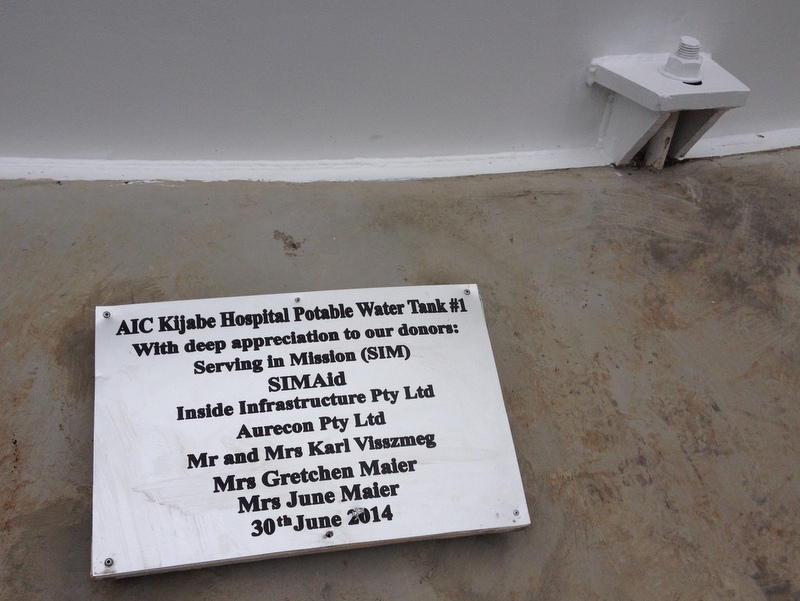 For those of you who are on our prayer and financial partnership team, this project is yours.  Projects like this don't just need donations or prayer, they need people on the ground who can deliver them:  Kijabe Hospital would not have Mardi as Medical Director, or myself helping with project delivery if it wasn't for you.
If you donated to the water project, this project is yours.  Steel was bought and welds carefully made with the money you gave.
If you work at Aurecon, Inside Infrastructure, and Guidera O'Connor, you helped design this tank and provided valuable advice, and this project is yours.
If you have sustained us in prayer, doing the 'behind the scenes' work of engaging with our Father during some of the difficult times we've faced this year, this project is yours.
If you work for SIMAid or SIM and helped to raise funds and get this project set up in the SIM project system, this project is yours.
A Hospital which has had chronic water issues, both from lack of water and contaminated water, now has these issues in the rear-view mirror.
HIV positive children who receive treatment at the Hospital, with their immune systems depressed are at much higher risk of disease, and need clean water.  They are no longer at risk from infection from unclean water at the very Hospital they come to receive care.
Children recovering from hydrocephalus and spina bifida surgeries are at high risk of infection following surgery, and this risk has now greatly reduced for these precious kids who have nowhere else to go for these lifesaving surgeries
Babies who are born prematurely, or who need additional nutritional supplements need clean water for formula and medicines, and they now have it.
Think about the impact of your partnership with us and Kijabe Hospital, and the fruit it has produced.  Please, celebrate the completion of this project, your project, and reflect on how many people will be impacted for good through your generosity and partnership.
Gratitude.  Celebration.  Thanks.
Thank you, all of you, who are materially involved in the work of Kijabe Hospital.  May the Lord richly bless you, and help you see the beauty of what happens when we work with Him for the sake of others.
-A
PS:  to date, SIMAid has been able to raise about 1/3 of the $180,000USD budget for the water tank.  Due to the water crisis, Kijabe Hospital has had to divert operating funds to cover the shortfall, and this places the purchase of critical medicines and staff payroll at risk.  You can donate at http://www.sim.org.au/kijabe-water-supply.