Love in the time of Ebola (13/8/14)
"The weak would never enter the kingdom of love."
– Gabriel Garcí­a Márquez, Love in the Time of Cholera
Many of you have read in the news in the last few weeks about the Ebola virus and its spread in Liberia, Sierra Leone and Guinea, with over 1000 deaths to date.   It's a story that started as a whisper in West Africa and has grown as its impact has started to spread.  So I thought I'd update you, our partners-from-a-distance, as to what the Ebola outbreak means for us here in Kijabe.
West Africa is a long way from us – if you look at the map, we're just east of Uganda.   As this current epidemic has unfolded, we have been watching Sierra Leone, Liberia and Guinea closely, checking in with colleagues there and praying for them and their countrymen.  Kenya is, however, over 5000km from Liberia, so I hadn't started to seriously look at our contingency plan as a hospital until a couple of weeks ago when I was asked to assess whether Nairobi would be a good evacuation point for families on SIM teams in West Africa.
We ultimately decided not to bring the West African team members here, and at this stage, we are grateful that Kenya has had no cases of Ebola.   But considering hosting evacuees certainly spurred us on to readiness.  In the last couple of weeks, we have been evaluating long-outdated protocols for assessment and treatment of potentially exposed patients,  clarifying what the country's approach to this illness would be if it came to Kenya.  We've been having conversations with the Ministry of Health and government hospitals, ensuring we are on the same page about who should notify who and who should go where if a potential case arrives.  Writing a contingency policy for Kijabe Hospital if the country suddenly was full of cases, overwhelming the isolation unit at the main hospital in Nairobi and they started just showing up at our door.
Today, the WHO announced that it considers Kenya at high risk for Ebola based on its status as a transport hub.  The airports here have stepped up screening efforts, and Kenya Airways is currently deliberating whether to continue flights into the affected regions.  So we continue to prepare and to watch and to pray that this horrendous disease can be brought under control.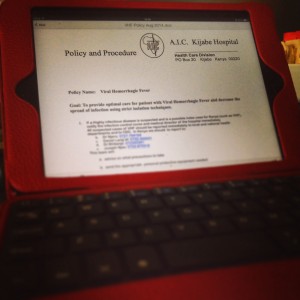 It has actually been good for me to be able to prioritise time for disaster planning.  This is  something I first got involved in at the Women's and Children's Hospital in Australia when Bird Flu was looking serious (and where "mass casualty" usually means a roller coaster incident or flyaway bouncy castle….) .  Disaster planning is critical, especially in places like East Africa when hospital capacity is stretched even at a baseline, and roads, ambulances and helicopters and trained paramedics are almost always absent.  There is great value in resource-rich countries sending disaster relief teams when local systems are overwhelmed, but I believe there is even greater value in trying to continually strengthen the system from within, in advance.
It has also been sobering to look at the realities of an illness like Ebola.  Although it isn't highly contagious (it doesn't fly through the air with a sneeze), it is highly infectious – so if you are close to it, you need to be extremely careful.  If you get infected, the chances of surviving are slim.  This is an illness to take seriously and to watch closely.
It has been humbling to talk about what we would do if Ebola came here.  To have doctors come to me and say "if we admitted a case, and you needed a doctor for the isolation unit, I would be happy to be that doctor – I don't have young children and it's better for me to be at risk".  To be surrounded by such compassion and self-sacrifice makes me so grateful to have the opportunity to work alongside such incredible colleagues.
There have been a few high-profile opinion pieces in the media in the last week about the wisdom of people putting themselves in harm's way during an outbreak of this significance.  People without a personal religious faith supporting altruistic hearts.  People who proclaim to have a relationship with God calling missionaries "idiotic".  Nameless doctors getting on planes with agencies like SIM and MSF to fill the places of the fallen or exhausted amidst controversy over the best use of experimental medications.  Swirling public opinion around whether or not  people should be making the choices that they are in the middle of such a horrific crisis.
 Jesus replied: "'Love the Lord your God with all your heart and with all your soul and with all your mind.' This is the first and greatest commandment. And the second is like it: 'Love your neighbor as yourself.' "
– Matthew 22 : 37-39
Love is my mandate.
It is love that informs our choices.  For one person, that prompting by the Holy Spirit to love means going to Liberia – usually with a great deal of consideration and in full knowledge of the potential cost.  For another, that prompting means staying where we are and loving our friends and family and community.   We are called to love – some of us where we are, and some of us somewhere else.  To love out loud.
Ebola isn't in Kenya at this point, and if it did cross our borders we would need to make some careful, tough decisions.  But in the meantime, thanks for continuing to  love out loud with us as we continue in the day to day of life in Kijabe.
– M.