"There's a hole in the side of the boat.  That hole is never going to get fixed and it's never going away and you can't get a new boat.  This is your boat.  What you have to do is bail water out faster than it's coming in."
– Will McAvoy, The Newsroom
I have found the last month at the hospital to be tougher than usual.  Working in a resource-poor setting, sometimes events collide to make many people feel, all at once, that everything is falling apart.  I have been struggling daily under a greater-than-usual barrage of emails, phone calls and text messages all with the same theme:  "here is a [system, piece of equipment, staffing issue] that is broken – I have been trying to fix it for [x months/years].  It is still not fixed.  I am tired of trying to fix it.  You need to fix it".
One of the things that usually keeps me going is the big picture – small, steady steps towards long term, better solutions impacting thousands of sick and needy patients.  But sometimes many small crises overwhelm the small successes, and perspective is buried under the team's and my frustration and exhaustion.
And so, the successes and joys and big picture are crowded out.
Here's a snapshot of last Thursday, the one day during the week that I attempt to put aside being Medical Director and get to be a pediatrician:
7:50am – drop kids at school and walk to friend Ann's house for 30 minute coffee before work.  Immediately cancel coffee when paged and run to ICU for unstable deteriorating child.
9am – Start rounds/clinic coverage after child stabilised
11am – Email:  "The departmental annual budgets were due yesterday, sorry we forgot to get you the drafts, they have all just been submitted to your office and you need to finalise them by 2 hours ago". Find someone else to cover pediatrics.
11:30am – Phone call:  "Can you meet now with the pediatric nurse manager to finalise the equipment order for the new children's wing today? He suddenly has to be on leave from tomorrow so can't do it next week and it is urgent".  Find someone else to cover pediatrics.
11:35am – grabbed by the theatre manager. "There is a guy in Kijabe who can help us automate our use of beds [it is a rare day that all of the beds in the Hospital aren't full]!  He leaves on Monday!"  Find someone else to cover pediatrics.
12:00pm – a staff member died unexpectedly, in our emergency department, on the weekend – phone call:  "You've already talked with the nurses, doctors – you need to talk to the entire extended family right now to explain how she died.  Also, you need to arrange an autopsy".  Find someone else to cover pediatrics.
12:20pm – Text:  "We've been waiting for months for some stuff in our department to be fixed – why won't someone just come and fix it and why when they do it is the workmanship so poor? Why is there no accountability for performance??"
1:30pm – eat lunch while drafting new automated bed management system for consideration and reviewing overdue budgets.
3:30pm – apologetically meet the pediatric nurse manager 5 hours later than planned and call the pediatric team to see if they are able to keep covering the patients without me.
4:30pm – Call a Nairobi neurosurgeon to try and arrange interventional brain surgery for a key staff member with an urgent health issue.
4:45pm – Phone call:  "Did you know you need to write a speech and arrange a hospital wide tour for dignitaries for the formal launch of the CT scanner tomorrow morning?"  Find someone else to cover pediatrics.  Draft speech.
8pm – Phone call:  "There are 30 people who have been waiting between 4-10 hours to be seen in the outpatient department and they are yelling and security has been called.  Why aren't there any staff seeing them and why hasn't anything improved in 5 years?"  Send Tweet to staff to help come clear the mess.
Most days in the last month have been similar.
This is leadership in a not-for-profit hospital for the needy, and it has felt like a lonely place in the last few weeks.  
I have felt my energy sapped, my joy absent, my heart heavy.  I have been waking up in the morning with dread – what new crisis would come to me today?  What blame would be placed upon me for lack of parts of my team performing as expected?  What would I be further and further behind on as the important gave way to the urgent – what would I fail to do that would result in more crises 6 months from now?
When I feel tired – or discouraged, or pressured, or fought against – I find that my emotions tug one of two ways.
Buck up kid, life is hard.  You expect this job to be easy in a resource poor, inefficient, cultural-melting-pot setting?  Suck it up, and keep going, things will get better.  And worse.  And better.  And worse.  That's what you signed up for.
Or,

It shouldn't be this difficult, maybe it's time for me to step down from this role and give someone else the chance to do it with fresh perspective, energy and grace.
I want a job that brings me joy, all the time.
But is joy, all the time, in this work that is service and calling and difficult-by-definition, realistic?  Is that really how I should define fulfilment, or success, or obedience?  Or is my joy to be found sporadically at work, supplemented in other places than my ministry and role at the hospital?
The last few days have had more sparks of joy that have broken through the heaviness.  An encouraging text from one of the Kenyan doctors – you are making a difference, don't be discouraged.  A day dedicated to formally launching our CT scanner –  taking the time to celebrate a sustainable, critical, cost-effective service for patients for hundreds of kilometres.  A bi-weekly evening discussing faith and work and motherhood with 7 women who are colleagues as well as friends – helping me to ask myself the right questions and to seek God in the answers.  A husband who is unfailingly supportive and helpful with clear perspective.  An unexpected conversation with another staff member who has seemed cynical about the possibility of improvement for retention of our doctors – telling me that and although he was initially dubious about whether I was the right person for the role, he is grateful that I am doing it now.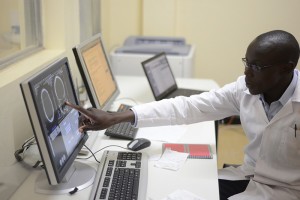 I have reasonable certainly that this medical director role – of encouraging, of advocating, of  relentlessly pushing for things that are necessary (even if  not universally popular) – is what I am supposed to be doing right now.  And that maybe this is one of the "Buck up, kid" times.
"Do you not know? Have you not heard?
The Lord is the everlasting God, the Creator of the ends of the earth.
He will not grow tired or weary, and his understanding no one can fathom.
He gives strength to the weary and increases the power of the weak.
Even youths grow tired and weary, and young men stumble and fall;
but those who hope in the Lord will renew their strength.
They will soar on wings like eagles;
they will run and not grow weary, they will walk and not be faint."
– Isaiah 40:28-32
It has been a month of stumbling and falling.  Please pray with me for continued discernment of God's understanding of unfathomable situations – and that in all, I will continue to hope in the Lord to renew my strength, again and again.
– M.