5 small joys (21/5/16)
5 things that have made me smile this week:
1. Martin performing an ultrasound of a baby's heart – Martin, the Clinical Officer we hired a couple of years ago to help us in intensive care, is now expert enough to give me a refresher course on how to do it myself.  A rare skill in Kenya.  With less training required than for physicians, Clinical Officers help to fill the massive physician gap in Kenya:  2 doctors for every 10,000 people (compared to 25 for every 10,000 in the States).
2. The new pharmacy store – it probably looks to you like just a bunch of shelves.  But it represents 18 months of negotiation for space, troubleshooting "who owns IV fluids and nutritional supplements – central medical store?  pharmacy? nutrition?" And moving boxes from damp buildings and tiny closets and hidden shelves all over the hospital to a single, secure, dry, temperature controlled space.  Happy.
3. Riley dancing – watching my daughter in the first dance class that has been available to her since 2010 – one of the new teachers at RVA has offered the 2nd and 3rd grade girls and boys a chance to learn grace and rhythm.  A rare opportunity here.
4. Studying a leadership article with my heads of pharmacy, nutrition and lab – examining our leadership practices and finding our blind spots.  Developing these independent managers into a cohesive team of strategic thinkers working together  in the "Diagnostic/Therapeutic Subdivision" of the medical team will be one of the highlights of the next year as we work through a leadership program together.
5. Realising that 65 volunteer doctors have been here to help us in 2016 already – sixty five!  Doctors from all around the world who have come from 2-12 weeks to give us space to research, to plan, to rest, to recover from what can been an exhausting and traumatic workload.  This screenshot is the visiting doctors schedule for July and August – much of my time is spent looking ahead to as far as 3 years ahead and trying to foresee staffing gaps in a volunteer-dependent division, and seeing the fruit of that brings me joy.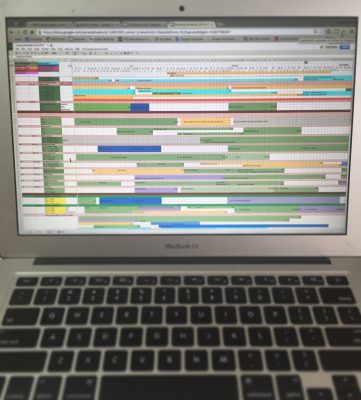 – M.