Back on peds – or, "plus ça change, plus c'est la même chose…." (11/11/16)
Since handing over the Medical Director role, I am officially back on the peds team, rather than filling in occasional gaps.  It is wonderful, different, reassuring, familiar, exhausting and lovely.
Many things have changed since Jennifer and I came to Kijabe – instead of 2, there are now 4 full time pediatricians.  In addition to a nursery and a 20+ patient peds ward, we now also have 3-5 pediatric ICU patients and a 7 bed "high dependency" (or "step-down") unit – in a bright new facility.  But rather than 3-4 of us on call for pediatrics every 4th night, there are 7 of us on call every 6th night.
We also now have a slowly growing pediatric cancer program – with only 2 hospitals in Kenya providing accessible cancer care to kids, thousands die of curable cancers every year.  So we are slowly starting to treat a select group of curable cancers (Wilms tumour, Burkitt's lymphoma) with the support of a cancer fund set up by our lovely supporters Julian and Janine when they got married.
Rather than having only the choices of oxygen from the wall or a ventilator for a critical asthmatic patient, we are now the only place in Kenya providing an interim "high flow nasal cannula" option.  When I admitted a blue, gasping, critical asthmatic child with asthma last week,  Nate (our newest long term pediatrician with years of HFNC experience) showed me how to set it up – this precious boy is only alive today because of this new to Kenya (and newer-to-me) technology.
Simple and complex changes – all necessary as we have progressed with pediatric care.  Changes that started with Jennifer and me, and continued after both of us moved to different roles with a succession of several dedicated long term pediatricians.
And then there are the things that haven't changed.  Getting called in at 4am for an unexpected delivery of a 1.2 kg, 2 1/2 month premature baby and knowing that he will need a tube in the trachea for lung medication and a catheter in the umbilical vein for fluids and vital medications – and successfully doing those procedures for the first time in 3 years with muscle memory coming through (despite a little anxiety!).  Sad and precious conversations with parents whose baby was born with too many abnormalities to survive – prayerfully and tearfully removing life support as their child passed away with cuddles and love.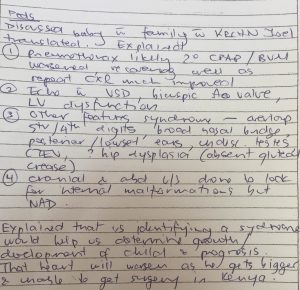 Working with Sarah, the longest serving Kenyan pediatrician here – she joined us initially part time in 2012, then went to South Africa for a year of pediatric oncology training – then returned here to start our nascent cancer care program.  The familiarity of a colleague who has seen how far we have come, has shared trials and frustrations with me, and who has become a trusted friend over the last 4 years.
And getting back into the routine of training our nursing and medical staff the nuances of pediatric resuscitation every Friday morning.  Reminding our nurses and doctors that we are team, and we listen to and help and rely on each other.  Asking them one-by-one the things they want the most help learning – and coming up with a list that is identical to the things I was asked to help the team learn in 2011 when I arrived.  Of the pediatric nurses I worked with in 2011, only 2 remain – James, as the entire pediatric service manager, and Agnes, now the in-charge ward nurse.  New, young, smart but inexperienced nurses and doctors now needing the exact same education, up-skilling and confidence.
"Plus ça change, plus c'est la même chose" – the more things change, the more things stay the same.  I am so glad to be one of the "same" things, stepping back into pediatrics with the same passion and the same joys almost 6 years after arriving in Kijabe.
– M.