The long, slow work of collaboration (6/11/16)
I had the privilege from Oct 19 -30 of a whirlwind trip to the US to talk about and raise support for East Africa's first training program for pediatricians in Pediatric Emergency and Critical Care.
In Kenya, 85 kids out of every 1000 under the age of 5 die, and 87% of those who die after making it to hospital die within the first 24 hours.  These kind of critically sick kids need doctors who are trained in emergency and intensive care, to rapidly reverse the issue that brought them to hospital and save their lives – as well as to train nurses, clinical officers and junior doctors to do the same thing.
Kenya has one – ONE – pediatric intensive care doctor working in public hospitals (Dr Rashmi Kumar at the University of Nairobi).  And only 2 pediatric emergency doctors – myself and Arianna at Kijabe.  We're not enough.  So in 2011 the University of Nairobi approached Seattle Children's Hospital to see if they could help them train pediatricians in emergency and intensive care, and Amelie, a pediatric intensive care doc at the University of Washington, answered the call.
Since then Amelie,  Rashmi,  Arianna and I have been developing the only program between Cairo and Capetown to train pediatricians in this massively underserved area.   This has involved extensive liaising with the University of Nairobi, the Ministry of Health, the Kenya Pediatrics Association, the Kenyan Medical Practitioners and Dentists Board and many others.
Five years later… our 2-year collaborative training program is in the final stages of approval to train its first doctors in September 2017.
This isn't a program that we can do alone:  we need visiting specialists to help.  To train the trainees when we are on leave or home assignment, to support us in developing the lectures and examinations in order to graduate 3 specialists a year.  It's hard to overstate how impactful this training program will be in a region totally devoid of this training.  We hope our graduates will move on to start kids' ICU care across Kenya, Tanzania, Rwanda, Uganda, Burundi and South Sudan.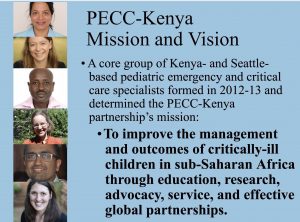 Thanks in part to the support of the University of Washington, I travelled to San Francisco to the 2017 American Academy of Pediatrics annual conference to present our program – the need, the goals, the development and the challenges of getting training like this off the ground.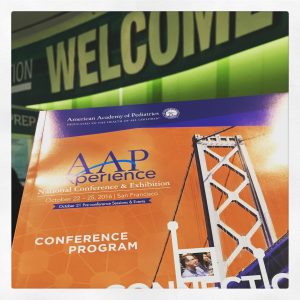 I left the conference in San Francisco early to fly to Seattle to connect with both the Pediatric Critical Care and Pediatric Emergency Medicine teams at Seattle Children's Hospital.  Amelie had my schedule jam packed – starting with presenting a teaching session to the senior intensive care trainees on how to diagnose and treat a child with 1/1000 of the resources they are used to dealing with.  It was eye opening to see them carefully try to figure out how to not just order every lab test, every scan, every drug – but to consider that for every dollar they spent on this child's care, it was one less dollar the family could afford to spend on their other kids' school fees or food.
I gave a presentation to the critical care team, and another to the pediatric emergency medicine team, a summary of healthcare in Kenya and what our program (and Amelie, as a part of their department), is doing in Kenya.  And how they could, and should, be involved in helping Amelie and us make this a sustainable part of health education here.
It was a busy but encouraging trip.  It was helpful to step back and remember why and how what we do is making an impact.   It's often hard to see in the day to day – when financial and political and staffing issues seem overwhelming.  When day to day progress seems infinitesimal – but looking back over 3 years we can see something that is better than it was.
I got back on Sunday, and Andy left for West Africa on Monday.  We are ready to settle back into a less crazy routine, but grateful for the opportunities we've had this month to get a birds-eye view of this life to which we daily feel called.
– M