Three years ago many of you walked with us through a time of great uncertainty – Riley's poor growth, tests to figure out why, the alarm over a potential pituitary tumour, relief that it was only a cyst – and the conclusion that she is deficient in growth hormone, and will need daily injections until she reaches her adult height.
This month marks 3 years since we found out her diagnosis, and we had her regular checkup at the hospital this week.  So we wanted to update you – Riley is growing as hoped!
At her specialist appointment this week we found out she is growing 8 cm a year thanks to her daily shots – perfect for the catching up she has been doing and needs to continue. Her blood tests show we're not under- or over-dosing her – she is getting the right amount of medicine.   Amazingly, she continues to be good natured (mostly) and accepting of her daily injections and regular blood tests.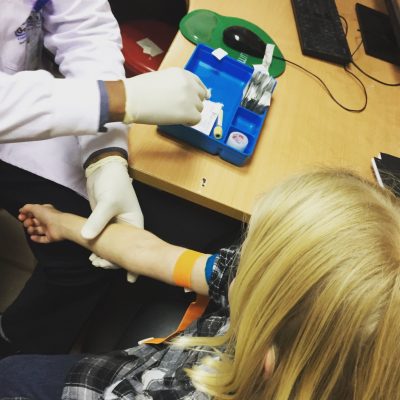 When we named our baby girl, we chose the names Riley, meaning brave and courageous, and Erin, meaning peace. Little did we know how our chats with her about these names and their meanings would encourage, spur on and reassure our strong girl.  We are grateful for the courage and peace we daily receive – through your prayers, our God's goodness, and the joy of seeing our little girl grow.
-M.