Caught in the crossfire (30/12/16)
[Note: As a volunteer doctor, I am in Kenya to care for the sick and vulnerable. Our family is here at the invitation of the Africa Inland Church and several non-profit/relief organisations, with the approval of the government. This post is not intended to criticise any involved stakeholders (government or medical) or to take sides.  It aims not stray into criticism of any of the parties, and reflects only my personal thoughts.]
Amidst Christmas celebrations,  a Russian plane disappearing, terrorism in a Berlin Christmas market,  and Princess Leia dying, what hasn't really hit the headlines in the last 3 weeks is the fact that untold numbers of Kenyans have died since December 5 due to an ongoing doctors' strike.
For nearly 4 weeks, every Kenyan government hospital (which provide about 50% of healthcare) and clinic has had no doctors. Kenyatta and Moi Hospitals, the 1800- and 800- bed national referral hospitals, have been deserted.   Hundreds of government employed doctors have been protesting in the streets over a longstanding dispute over work conditions.
But what's even more astounding to me is not that it hasn't hit international headlines – but that it has barely made the news in Kenya.
For every road accident, stroke, premature birth, severe pneumonia – no doctor has been at the hospitals to treat the wounded.  So they have either come to one of the few mission hospitals like Kijabe – or to a private Nairobi hospital if they are wealthy and can afford the astronomical funds required to even be seen – or have stayed home and died.
The media is reporting around 20 deaths so far due to the strike – bodies found in abandoned government health facilities in the first two weeks.  What is unreported is deaths at home, deaths in cars and buses as the sick desperately try to find help, deaths at mission hospitals and clinics when people arrive too late after first failing to find care at other locations.
There are countless thousands  of Kenyans impacted irreversibly by this situation.  One baby came to our facility after trying 4 other closed (or too expensive) hospitals – already dead.  A pregnant mother ruptured her uterus while  sitting in our clinic while trying to find a obstetrician – she and baby survived only due to the skill of our obstetric team.  Baby W was transferred to Kijabe the day before the strike – a premature baby whose doctor knew that if she didn't get her to Kijabe on day 1, there might be no incubators left and she has survived – other babies like her born at home haven't made it to a hospital.  Children and mothers and countless others have died or been abandoned.
So many emotions swirl around this action for me.   Many Kenyans support the doctors, who feel they have been ignored when trying to negotiate for the last 3 years amidst accusations of corruption and mismanagement of healthcare funds.  Doctors at mission hospitals feel both sympathy for the grievances of their government colleagues and frustration that not even emergency services are being provided, with ordinary (translation:  non-wealthy) Kenyans in the crosshairs.   The situation is not helped by politicians being seen in the news going to private hospitals or to Germany for medical care, unaffected by the situation faced by the non-wealthy.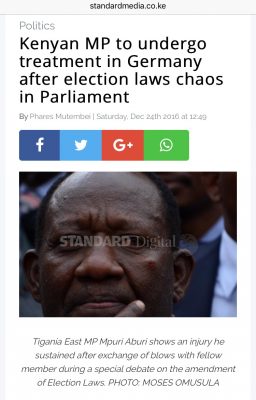 And in the day to day, staff at places like Kijabe are drowning more than usual with desperate need.
Kijabe has never turned an emergency away.  But for the last four weeks, the numbers of critical maternity, newborn, trauma and medical patients has been overwhelming.  We usually juggle the cost of patients who don't pay even our small fees with some paying elective surgery cases to enable us to pay our staff and utilities bills.  But as of last week, we've been forced to cancel elective surgeries so that we can care for all the emergencies.   We don't know how we're going to pay the salaries of our local staff.  The other mission hospitals in Kenya are struggling in the same ways – trying to provide 100% of Kenyan healthcare to a population that is underserved even when the government facilities are open.
Everyone is tired.  And a little heartbroken that this is happening – again – as it has every year that we have been in Kenya.
Please pray with us – for resolution.  For perseverance.  For energy for those who didn't get any break over Christmas.  For ordinary Kenyans, again, caught in the crossfire.
-M.