Strike Impact (6/1/17)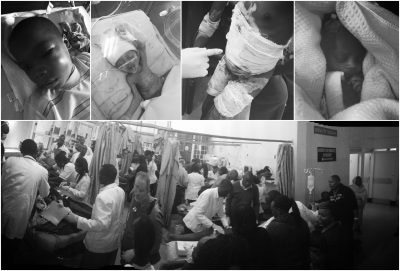 As I arrive at the bedside
I am struck
By how cold this kid is.
Something's gone wrong
and her skin hangs
as her eyes stay closed
and her breath rattles
This skeletal little girl
Was already starved
And now her bowels
Let loose remaining liquids
Needle crushes bone
Fluids fly in
And we're chasing, running
Trying to catch up
Because hearts only pump
when there's something to pump.
Maybe she'll live –
Our sole ICU bed welcomes her
And she may have a chance.
But if anyone else arrives now
There is no more room at the inn.
Accommodation elsewhere
Is abandoned by the angry
Or reserved for the rich man
Or full.
This inn is full.
So when
Shaking Seizing Shuddering Boy
And
Vomiting Limp Listless Child
And
Gasping Wheezing Burning-up Baby
And
Blue Cold Tiny Preemie
All. Show. Up.
We flex and bend
And cram and run
And pray and push
And stand and help
And hope.
That love, joy
peace, patience
kindness, goodness
faithfulness, gentleness
Will soon prevail.
So today
I return to the same bedside
Where now another baby girl lies –
But this time, there is no ICU bed
No needle, no tube
Because we are overwhelmed.
Her skin hangs
as her eyes stay closed
and her breath rattles
And stops.
Have mercy on me, O God,
according to your steadfast love;
according to your abundant mercy
blot out my transgressions.
– M.
_______________
Today marks one month of the national doctors' strike – you can read more about it here.