"Dear Kijabe Hospital,
I ….  was admitted on ……..  I was diagnosed with hypertension and I was 27 weeks pregnant.
I was told that the child I was carrying could not grow and so she was removed.  On removal she was found to be only 855 g and she was taken to the nursery.
Due to the huge bill I incurred in the hospital which upon the time I was discharged I could not clear, I could not afford to pay the money which could help my baby grow.  I have so decided to give the child to the hospital.
Yours faithfully…."
What do you do when you read such a note?  The hospital here charges for its services, as does every government-run and mission hospital in the country.  A hospital bed is charged at 200KSh (about $2) per day, drugs are obtained at deep discounts and charged at close to cost.  The hospital staff are paid Kenyan nurses and some doctors, with most of the doctors volunteers.   Yet after 2 months, this little princess, alive and thriving, has accumulated a bill that is prohibitive for her mother.  A mother whose decision is difficult to question when none of us has walked in her shoes.
That baby is nearly 2kg now, beautiful and ready for discharge.  We haven't been able to contact mum for weeks.  Social work is working on finding her extended family, and in this culture where family is everything, where any wealth obtained is always shared, I know this child will find her way home.
_____________________________________________________________________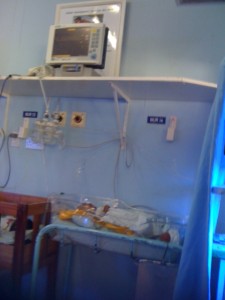 Last week,  we received a surprise admission.  A surprise because after asking to be transferred to the children's hospital, this little girl had left us.  Born with a cleft lip and palate, heart condition, and probably several other problems we haven't found yet, with us she could not receive heart surgery.  She was on an arsenal of old-man drugs – digoxin, lasix, sildenafil, and as stable as we could make her.  And so her parents got together the money for her admission in Nairobi under a cardiologist for an opinion, and a charitable organisation paid for her ambulance transfer.
And then she was back the next day.  It turns out the hospital required a deposit for high dependency care of 20,000KSh ($200) – an astronomical amount in this rural area where unemployment is around 40%, and if a menial job can be found it might pay around 8,000KSh per month.  They were then advised to try the nearby government hospital, where after 5 hours of waiting to talk to somebody they gave up and came back to Kijabe.
The question is – what was lost and what was gained?  This baby has multiple problems, and may have an undiagnosed genetic disorder.  Is the heart condition what we should focus on?  Should we spend the money finding what else is wrong?  Would any or all of it be fixable?  Does this baby have a condition which would cause her to succumb before its first birthday no matter what we do?
She's been deteriorating over the last few days.  She's on a lot of oxygen, because the blood pressure in her lungs won't let the blood get in properly, despite everything we're doing.  I'm not sure how much longer she's got.
_____________________________________________________________________
There are many wonderful stories I'll tell you in another post, about lives saved, about babies snatched from death's door who are now snuggled up to their mum's breast back at home.  This was just the stuff that grabbed me today as I was in the nursery, filled to capacity with 20 babies and 2 nurses.
I wouldn't be anywhere else right now.
M.
________________________________________________________________
Update 17/5 – The second baby above died today.  Her heart just couldn't do it any more.  Sometimes, in the middle of our angst, our questions answer themselves.