Celebrating Advent (13/12/11)
On Sunday night, we were invited to an Advent Celebration at the Myhres' house.  As an extended cobbled-together family of paediatric-associated people, we got together to sing carols, meditate on this precious time of remembering Christ's birth and the significance of his presence in our daily lives and, of course, to eat cookies.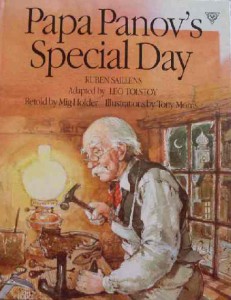 One of the highlights was hearing Jennifer read the story of Papa Panov's Special Day.  Originally written in 1899 in French by Reuben Saillens, translated into English by the Russian Tolstoy and then retold for children by American Mig Holder, this lovely story has travelled around the world to be retold on a chilly December night to Australians, Americans, Africans and Canadians in Kenya.
It tells the story of an old man, sad and alone, who is hoping for Jesus to visit his village on Christmas day.  As the day fades and his hopes sink, he uses his time to help needy villagers who pass by his door on a wintery day, some cold, some hungry, some lonely.  And as the evening passes and night falls, he realises that Jesus has indeed passed through his village – through his compassion and love for those who have passed by his door.
One of the scriptures that we read was a passage that has been foundational for me in this journey from Australia to Kenya – Matthew 25:37-40.
"Then the righteous will answer him, 'Lord, when did we see you hungry and feed you, or thirsty and give you something to drink?  When did we see you a stranger and invite you in, or needing clothes and clothe you?  When did we see you sick or in prison and go to visit you?'  The King will reply, 'Truly I tell you, whatever you did for one of the least of these brothers and sisters of mine, you did for me.'
The evening was a lovely reminder, through story, song and scripture, that as we look forward to this anniversary of God sending his son to earth, that the restoration of a broken world began 2000 years ago and continues right now.
And then, of course were cookies and treats, coffee and friends.  A celebration for so many reasons.
– M.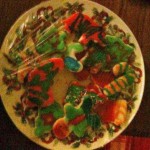 __________________________________________________________
Next post: A Tale of Two Hearts (16/12/11)
Previous post: Friendly Fire (9/12/11)