It's Christmas Eve day…and while the last six weeks have been filled with unexpected turns and roundabouts, many little rays of sunlight continue to pierce the fog of activity in the last few days…
1.  Mardi's folks arrived from Australia for a three week visit…it is great to have them here, and to have someone to look after the kids while we climb Mt Kilimanjaro with friends from Florida next week.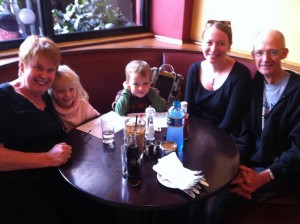 2.  The health care strike that paralyzed the Government Hospital in Kenya (resulting in critical patients and traumas being shunted to mission hospitals like ours) and filled our beds and corridors to bursting officially ended a few days ago.  Just in time for Christmas!  While this is great news, please pray for our doctors and nurses who were forced to make some very difficult triaging decisions during this crisis, and some of whom are consequently in a state of exhaustion and grief before the holiday.
From an email Mardi sent to the Hospital staff yesterday:
I just wanted to offer my sincere thanks to all of you for your tireless efforts during the healthcare strike.   Everyone worked incredibly hard, advocating for their patients and between departments to ensure that we cared for as many people as possible.

Special thanks to:
– our nursing staff & KRNAs who worked long shifts and extra shifts to staff the over-full wards, theatre and nursery
– each doctor who came in early, stayed late, came down to OPD to help, made difficult decisions and still provided excellent, compassionate healthcare in difficult circumstances.  

"Honor one another above yourselves.  Never be lacking in zeal, but keep your spiritual fervor, serving the Lord.  Be joyful in hope, patient in affliction, faithful in prayer.  Share with the Lord's people who are in need." – – Romans 12:9-12

I am so grateful to work with a team people whose lives are characterised by service, fervour, joy, hope, patience and faithfulness – you choose every day to be the embodiment of the gospel.  What a Christmas gift.
Blessings and thanks, Mardi
3.  I received a text at 3am yesterday from Paul, a community leader and pastor up the mountain that I have the privilege to mentor and learn from–seems his wife went into labor a month early and delivered a Christmas gift, a daughter-Maggie.  Would I give them a ride  home later that morning?  12 hours after delivering, Miriam walked proudly to our car holding little Maggie, surrounded by her joyful family from nearby Mai Mahui.
4.  We had a "White Dinner" with the Myhre's last night–a pre-Christmas Norwegian tradition with a white food and dress theme.  Complete with a prayer in Norwegian, and a reading of Tolstoy's Papa Panov's Special Day.  We had a ball, and Mardi's parents enjoyed spending some time with our community here.
5.  Farewells…Collins, the engineer and head of the Hospital's maintenance and projects division has decided to move on to another job…I have been fortunate to walk alongside and provide consultant support to Collins over the last three years, and he will leave quite a legacy:  on his watch Kijabe Hospital has undertaken and completed more infrastructure projects than it has in 100 years.  He will be missed, but he goes to a major Kenyan railway project and will continue to support the developing infrastructure of this precious country on that project.
Tomorrow…Christmas Day.  We'll be hosting a German family (chaplains at Kijabe Hospital), a visiting obstetrician and his family from Australia, a nurse recently evacuated from South Sudan, a visiting family practice doctor and his family from Canada, and Mardi's parents.  It's going to be a great day.
I am struck this morning by how our stumbling and halting practice of the discipline of Sabbath-keeping (having a 24 hour period every 7 days where we (try) to do no work) has started to train us to be be attentive to the Lord and survive difficult periods like we've had in the last few weeks.  I really can't explain why we're doing OK at the moment, why in the midst of dealing with Riley's health issues, a health care strike, and a business-as-usual work load we haven't crumpled to the ground in the fetal position.  But it's true:  we are tired, but we're doing well, and this morning I was moved as I reflected on all the ways the Lord has touched our lives in the last few weeks.
In my prayer time this morning I read (Peter Scazzero's Daily Office) about the importance of Sabbath rest:
Abraham Joshua Heschel once observed, "Unless one learns how to relish the taste of Sabbath while still in this world, unless one is initiated in the appreciation of eternal life, one will be unable to enjoy the taste of eternity in the world to come."  We are simply naive if we think that, having squandered or wasted the many good gifts of this creation, we will not do the same with the gifts of heaven.  Sabbath practice, on this view, is a sort of training ground for the life of eternity, a preparation for the full reception and welcome of the presence of God.    -Norman Wirzba
To friends and family near and far, wherever you are and in whatever season of life you find yourself in this Christmas, it is our prayer that you are able to rest and be attentive to the joy and hope around you.  Whether you're in chaos and mess, or order and peace, may a restful holiday be a training ground for you to prepare to receive and welcome the presence of God.
-A