Here's some titles from top-selling Christian books on Amazon:
"Every Day a Friday"
"You Can, You Will:  8 Undeniable Qualities of a Winner"
"The 7 Most Powerful Prayers That Will Change Your Life Forever!"
"Living Life Without Limits"
No kidding, these are real books.  And they are huge sellers.  What do they have in common?  They are representative of an almost total loss (both in the West and Africa) of a sense of rhythm and pattern to our lives, of an ebb and flow between seasons of equilibrium and orientation, and seasons of suffering and sadness.
Last week, I was asked to lead this term's Prayer Day for the staff and students of Moffat Bible College.
I spoke on this loss of rhythm and pattern, and how profoundly we in the church have lost a Biblical understanding of the importance of grief and lament, steeped as we are in cultures that aren't comfortable dealing with normal human loss and suffering.  Also in church cultures, where words like 'victory', 'power', and 'overcoming' are seriously overused (my own tradition of charismatic evangelicalism and pentecostalism is not blameless).  
We spent our time in the Psalms, re-learning the power and depth of the Psalms of lament and complaint.  We studied a pattern in the Psalms that mirrors the patterns of our lives:  1) orientation, where everything is going OK, we have equilibrium, a sense of order, goodness, reliability, and coherence.  Psalms like 8, 24, 50, 37, 49, 73, 112.
But then, 2) disorientation, a disorienting event occurs causing the old orientation to collapse:  loss of a loved one, betrayal by a close friend, dislocation from home due to war or injustice (as was the Hebrew story, and is not uncommon here in Kenya).  We experience distress, complaint, anger; we want to return to the old orientation, but we can't go back:  it has happened, and there's no going back but forward.  Psalms like 22, 60, 74, 42, 3-7, 54-59, and 140-143.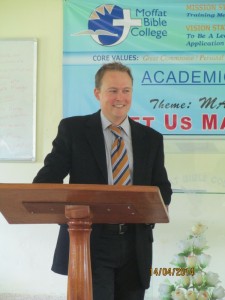 Finally, 3) reorientation:  we move through a season of disorientation with a deeper understanding of God's goodness and love.  There is a welcome and amazed recognition of newness (they can't go back to the old orientation), surprise (while disoriented, it was hard to imagine it would be possible to move forward), and gift (nothing the lamenter did brought it about).  Psalms of  celebration and thanksgiving, such as  1, 104, 92, 116, 118, 127, 136.
Even though more than 1/3 of the 150 psalms are psalms of lament, they are almost totally ignored in the churches I visit–to the detriment of our spiritual and emotional growth.   We discussed that when we don't learn to lament in the midst of a season of disorientation:
–We don't understand how to grieve well, and risk falling victim to unresolved anger, unforgiveness, and bitterness
-We deny ourselves and the church the language to use during normal human suffering and loss, forcing people to either 1) guilt (this bad thing happened probably because of something I did) or 2) denial (this really isn't that bad, it's 'God's will')
–Our spiritual growth is stunted:  we can't grow until we acknowledge the reality of who we are, and where we are at (2 Cor 3:18)
–We don't understand the necessity of humiliation and humbling in the life of a Christian leader.  We forget Jesus' breaking down of Peter, in perhaps the greatest (and most humbling) call to leadership in the history of the church:  "Peter, do you love me?" (John 21:17)
–We can become hypocrites, and live in an unreal world–in honesty and realism lies healing and life, not false piety or pretending things are not the way they are.
It was a deep time of learning to lament in a culture of denial.  As an exercise, students and faculty wrote their own psalm and shared and prayed them together in groups of two.  There were many tears:  there is power in rejecting the denial so prevalent amongst us, and acknowledging the depth of pain and sadness that many of us experience in different seasons of our lives.
2014 Moffat Prayer Day from Andrew Steere on Vimeo.
It was also powerful for me:  I came away feeling like I had received more than anyone.  As I wrote my own psalm and prayed, I heard the Lord say to me, "You have permission to admit you're not OK, you know that?"  As someone who is achievement/goal-oriented and driven, I rarely give myself permission to admit when I'm struggling.  Through the Psalms of lament and the gentle kindness of the Lord, I realise that I too have been living in denial:  and it's OK to admit when I'm struggling, or sad, or finding the work difficult here.
In my talk and preparation for this day, I am deeply indebted to the brilliant and wise Walter Brueggemann, a great Old Testament scholar.
-A
Post-publishing addition:  If you would like to a readable discussion on the power of the Psalms, download Brueggemann's From Whom No Secrets are Hid:  Introducing the Psalms.  Please, whatever you do, do not buy any of the books listed at the beginning of this story 🙂