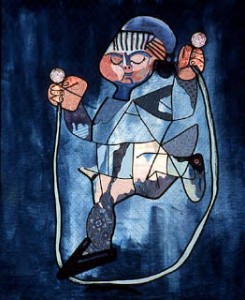 He enters the world with a cry
And this little life, this sculpted being
Is a Picasso.
Twelve fingers, twelve toes
Abstract heart
A cacophony of connections
A window of belly to naked bowel
A confusion of creation.
We dress for battle
Helmet of oxygen
Needles for spears
Rations of salty sugary fluids –
Engaging impending death
With determination that we should
Win.
For two days we fight
Parry and thrust
Charge and retreat
With combat cries we forge ahead
Determined that, whoever the victor,
We will have battled well.
But by day three the smoke is clearing –
the battlefield is deserted.
Across the way we see
No hood, no sickle, no face of fear
Instead we see a beckoning friend.
We lay down our weapons
Embracing what is next –
Not a loss in a blaze of attempted glory
Where the outcome is resisted until the end
But a journey together.
With holiness and sobriety
with tears
with solace
with silence
with grief
with waiting
with prayer.
Fearfully and wonderfully made
But for a different time and place.
Kisses and cuddles and murmurs of love.
Such love.
Father, into Your hands
We entrust his spirit.
Farewell sweet one
Baby Picasso.
– M.