Goodbye old, broken, way too small, and overflowing-when-it-rains septic tanks!  Hello, 21st century sanitation system. Last year we reached the milestone of 50% construction completion on Phase 1 of the Kijabe Sanitation Project:  decommissioning the old septic tanks and constructing new effluent pipelines and manholes to carry the Hospital waste downhill to a new wastewater treatment facility.
We engaged local tradesmen and people in the nearby community to undertake this work, spreading out the benefits of a year's work for fifty people.  In an area with more than 40% unemployment, it was a significant benefit to the community.  Our engineering team at the Hospital provided quality training, construction management, and the design and construction drawings, and it went well.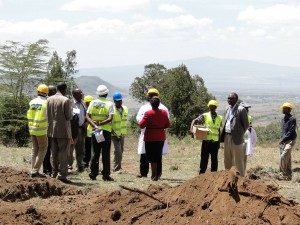 We then halted construction, so we could raise sufficient funds to start the more complicated Phase 2 works and engage a contractor with suitable skills.  Phase 2 consists of primary and secondary treatment ponds, designed to receive the untreated wastewater from the Hospital and retain it until a combination of UV from sunlight and natural biodegradation processes treated the water to a quality suitable for discharge to the environment.
Hospital effluent is particularly nasty (it has its own special category of wastewater in engineering design) due to the everyday pathogens and diseases that hospitals have which your toilet at home doesn't.  So the design and construction of these large treatment ponds, the interconnection works, and the inlet piping is required to be done to a very high standard to ensure we're not releasing pathogens to the surrounding environment.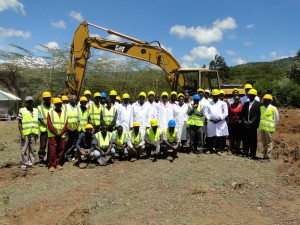 We awarded the construction contract for the Phase 2 works to a Contractor last month, and groundbreaking was yesterday.  A great feeling.
I have a not-so-secret passion for core infrastructure projects like water, sanitation, and electricity…I am regularly moved by the parallels to our personal lives.  For example, if we complete this sanitation project well, most people at the Hospital won't notice anything different–when a surgical technician cleans used surgical instruments, the dirty water still goes 'somewhere', as far as she is concerned.  She doesn't really care where it goes, as long as the instrument is cleaned and ready for the next life-changing surgery.  All she knows is that she is able to continue doing her job, and important surgeries can still happen.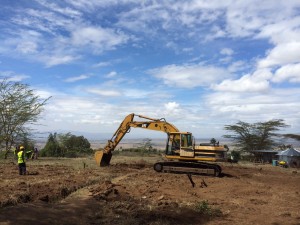 But if we don't complete this sanitation project, the Hospital could face shutdown by the environmental authorities in Kenya, who understandably don't want untreated wastewater flowing into shallow aquifers and poisoning water supplies.  I try to imagine an East Africa without Kijabe Hospital, without its huge footprint of compassionate service for the sake of others, and I shake my head.
Like in our personal lives, when the foundation behind the scenes isn't strong–when we don't have strong 'core infrastructure', when we aren't centered in Christ, when we don't have healthy spiritual and personal rhythms of prayer, work, rest, and study–we suffer.  Our work isn't as fruitful.  Our relationships aren't as loving and other-centered.  Our understanding of God's unconditional love, and our inability to earn it can get off-center.
And this makes me think of how we are raising our children.  Like so much else that is 'caught' rather than 'taught', am I teaching our children to have good foundations?  Am I modeling for them the truth that relationship is as important as outcomes?  Am I showing them that God is often not in the grand, the loud, the flashy, the ordered, but in the small, the quiet, the 'other', the marginalised, the messy?  Am I teaching them to "Love the Lord your God with all your heart, soul and might" (Deut 6:4) and be mindful of the distractions/idols of materialism, greed, self-absorption and power around them?
We're just delighted to see this final phase of the sanitation project commencing.  It's the culmination of several years' work, from master planning in 2010 to concept design in 2011-2012, to construction in 2013 finishing in 2015.  Will you join us in praying for safe and successful Phase 2 construction completion?
-A