This weekend was a much needed break from work…Saturday, the school Pinewood Derby race, then a catchup with friends in Nairobi for dinner and a stay overnight.  Sunday, sleep in, go to church, return to Kijabe, a restful afternoon.
At least, a restful afternoon was the plan.
About ten minutes before our turnoff from the highway down the mountain to Kijabe, we drove past a matatu (minibus) in a ditch, upside down.  A crowd had gathered, the passengers had all just climbed out of the windows and appeared to be OK.
And then, a little further along, a man in a pool of blood, legs splayed, lying in the middle of the highway, cars passing by on both sides.
Andy and I look at each other and we know I need to help.   But this isn't a highway with clearly marked lanes and drivers who obey the road rules – near-daily fatal accidents often end with one of the drivers fleeing for his or her life, as justice can be meted out at the scene by an angry mob.  This highway was recently ranked one of the most dangerous in the world, and any drive along it is nerve-wracking – let alone walking along the middle of it.  Andy pulls over – I ask "Are you ok with this?" –  he nods, and I get out of the car.
I walk to the middle of the highway, holding out my hands in what I hope is a universal "Stop!" to drivers going by.  I tell the bystanders that I am a doctor, and I need them to help me stop the traffic while I assess if the man is dead or alive.  I think they are relieved to have something useful to do:  they run around halting cars, a minibus drives crossways across the traffic at one end to stop cars, cars grind to a halt and we are safe.  And then I kneel to look at the man.
He's lying on his back, legs at odd angles, blood all over his head and on the ground.  But he is breathing, regularly.
People are peering over my shoulder, wondering what to do next.  I tell them I need 5 men to help me lift him to the side of the road where we can safely assess him.  I hold his head and neck straight between my hands and forearms in case his neck is broken, 5 people take a limb each and his pelvis, and on my count of three we lift him and move to the shoulder of the road.  We lay him in the dirt,  I keep a hold of his neck.  His breathing is gurgly, so I push his jaw open as I steady his neck to try and keep oxygen getting into his lungs.
I ask someone to find me a first aid kit with some gloves – turns out the only one available is in our car, and so someone runs to get it.  He stops breathing for 5 seconds, and my heart drops – I don't have a face mask, and his face is covered in blood–it just isn't safe for me to give him mouth to mouth.  I feel his neck for a pulse and it is still there – but I can't breathe for him.
I ask if anyone has called an ambulance – blank stares.  I ask someone to call Kijabe Hospital (25 minutes away) to send an ambulance.  Someone calls – but they can't get through because our hospital land line has been broken for 2 months.   I pull out my phone, find the direct mobile number for the coverage nurse and ask the bystander to tell the nurse that "Dr Mardi needs an ambulance".
I realise that by the time they find a driver and nurse it is going to take 40 minutes before they are able to get here, and the man has stopped breathing again.  His right eye is pointing straight ahead, his left eye is pointing left.  He starts to breathe again.  I don't know if we have 40 minutes.  I ask the passersby to find a vehicle, any vehicle, so we can start heading to the hospital.
Andy, watching from 50 feet head of me with the car and kids, can't see what is happening, but he sees a group of people pull over a car and start pounding on the doors and windows.  Is this the mob pulling out a driver to lynch them for a hit and run? Andy starts to wonder if he needs to run into the crowd to rescue me.  I don't even realise it is happening–I am watching my patient's face and chest.  As Andy starts towards me to make sure I am safe, a unknown man comes up to him and says "Are you with Dr Mardi?  It's OK, don't worry, we are taking the man to Kijabe Hospital."  Andy realises the mob is just getting a vehicle to transport the victim, and gets back in the car with the kids.
The car that has stopped for us is a station wagon with an empty back seat.  5 of us pick up the man, and I back into the car holding his head as steadily as I can.  We manage to keep his head, neck and torso pretty straight, but his legs are bunched up and strewn across the back of the seat.  But he is still breathing and has a pulse.  I sit in the footwell of the back seat, holding his neck still and his jaw open.
On the way, I call to update the team at Kijabe – we agree to meet the ambulance at the turnoff from the highway down the mountain.   We arrive together almost at the same time, and a nurse and driver help me get him out of the car onto a stretcher – we are finally in an ambulance.  We put a neck collar on him, start oxygen through a mask, and put an IV into his hand.  We need to give him saline for likely internal bleeding, but we look around and don't have the tubing we need.  I ask for a bag-valve-mask to push air into his lungs in case he stops breathing again, but we don't have that either.  The nurse measures his heart rate – it is dangerously low, which may mean brain bleeding – he may need urgent surgery.
I've reached the end of what I can do.  Unbeknownst to me, Andy and the kids are following us in the car and having a lively conversation about the whole thing, and praying for the man.  Riley:  "Dear Jesus, please help the man get to the Hospital safely and let his family know so that if he dies they can be there with him."
We arrive, and hand him over to the hospital team.  The surgical team takes over  – putting in a breathing tube, fluids, blood transfusion, X-rays.  He lies there motionless.  I wash my hands and arms – red.
I walk home from the hospital.  I'm covered with his blood.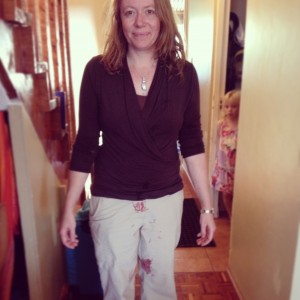 At bedtime we pray as a family for the man who was hurt and for his family who is worried about him.  As the evening unfolds, he is completely unresponsive, but it looks like his entire brain is injured and bruised – something that no surgery will help.  An ultrasound shows his spleen is in pieces.  His pelvis is broken in two.  I go to sleep knowing that he is unlikely to recover and thinking to myself, at least he is in our ICU and his family will have a chance to say goodbye.
Then, the morning, a new day.  On my way in to work, I go up to the ICU to see him.  His chart says his name is James.  His family was notified, and his community knows where he is.  I am told that earlier this morning he opened his eyes and was following commands.
I stand next to him – surely I have the wrong patient.   He opens his eyes and looks at me.  I say "James, utapona" (you will get better).  He nods.
Miracles.  Please pray with me that this will be the case.
– M.