Here on the northern edge of the Rift Valley, it's 7000 feet above sea level and an hour or so's drive south of the equator.  We don't have summer or winter, we have rainy and dry seasons.  April-June is the season of the 'long rains', and it gets cool and WET, particularly in an el Nino season like we've been having.
Our main access road into Kijabe has been under construction for a couple of years, and so about half of the road is beautifully tarmacked and smooth, while the other half just disintegrates when it rains.  The other three access roads are less well used and not well maintained, and quickly become impassable during days of heavy rain.  Constant rainfall adds an additional layer of slipperiness on top of mud that ranges from ankle to knee deep, and so it all gets a bit exciting here in this season.
During days/weeks of heavy rain, the public transport operators (vans and motorbikes) either stop operating, or charge double the fare…making the fare unaffordable to many people in our area for whom even the normal fare is a stretch.  Only the very sick or dying will brave the roads to come to the hospital in this weather, or those strong enough to walk the 6km down the mountain or 5 km up the mountain in the mud. Last week a lorry lost its brakes and overturned on a particularly steep section, killing all four passengers.
A number of us from Kijabe Hospital were returning from Nairobi yesterday in the rain, and were forced to just go for it despite the mud and rain.  Mardi and some colleagues used the upper road (the one under construction), and slipped and slid their way down the mountain to Kijabe safely.
Kenyans have a saying in Swahili called 'harambee', which means 'let us all pull together'.  When someone is in financial need, a friend throws a 'harambee' to which their friends and relatives are invited, and everyone comes and contributes no matter how small.  This 'harambee' spirit is an inspiring thing to observe during times of crisis; the number of people who spent all day helping others out of the mud or pushing cars uphill was inspiring to me.  There's nothing like a good crisis to bring out the best in people.
I was returning from another meeting in Nairobi, and used the lower road.  When I came upon a bogged lorry I joined about twenty other locals in freeing it, but got our 4WD bogged in the process.
Not to worry.  After unsuccessful attempts by a friend to tow me out with his own 4WD, it was time to use our winch.  We were able to attach it to a nearby tree hidden behind some scratchy bushes and winch it out.  Three cheers for winches that work when you need them to!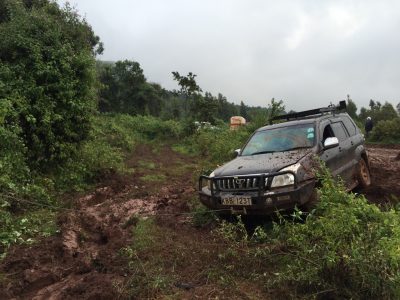 Three friends from Kijabe drove their own cars down this crazy muddy road to offer assistance, but had to stop about 500 metres away because there were too many stuck cars blocking the road.  Ah well, the winch saved the day in the end.
What's it like to drive on these roads in this weather?  It's like this:  Here's some video I took leaving Kijabe yesterday morning, on the GOOD road, which became impassable about an hour later.  Light rainfall added a layer of slick mud on top of the thicker mud…it reminded me of driving on ice in a Michigan winters.
During the long rains in East Africa, there's never a dull moment 🙂
-A