Note: Andy's paper, "Righteousness, suffering and participation in Philippians 3:7-11: Integral mission and Paul's gospel", will be published at the 2018 Micah Global Triennial Consultation (Philippines, 10-14 Sept 2018), and can be viewed here. A short summary follows.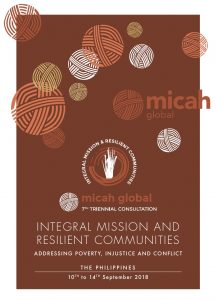 Snapshot
Cross-cultural missionaries leave family, security, predictability, community – motivated by the gospel.  But what is their understanding of the gospel?  How do they measure "success"? What is their understanding of the value of the work itself, apart from outcomes and "success"? What has eternal/future significance and how does that intersect with the present? Asking these questions and considering them deeply is important, as our picture of God and what God is doing in the world around us has a first-order influence on our behaviour.
The idea in brief        
Faith-based cross-cultural workers in sub-Saharan Africa, where under-5 mortality rates in sub-Saharan Africa are an order of magnitude higher than in the West and there is only one surgeon for every 200,000 people, might be forgiven if they emphasize metrics and improved health outcomes (action) over thinking deeply about their picture of God (contemplation). Having worked closely with such a group of medical workers in low-resource contexts for seven years, I sometimes wonder if it is even reasonable to suppose that this bias towards action could be anything other than what it is, given the profound human suffering surrounding them.
However, a focus on metrics and 'doing' can be detrimental, resulting from its prioritisation of relatively recent modern Western paradigms of mission and development over clear thinking about the nature of the gospel. Many cross-cultural workers do not recognize how profoundly their picture of God and God's mission influences their work.
Burnout
One example is found in the high rate of burnout amongst cross-cultural workers and community/church leaders, which can be influenced as much by their picture of God and what God is doing in the world around them (Saving us "from" it? Redeeming and restoring? Hovering wrathfully nearby?) as by mental/emotional factors.
Conflict and dysfunctional relationships
A second is found in conflict and suboptimal relationships between cross-cultural workers and local leaders—not simply because of cultural differences (the default explanation of cross-cultural trainers)—but because of theological differences. Often these theological differences derive from an underlying modern Western transactional paradigm of salvation, where the primary orientation of the gospel is towards the future ("Do you want to go to heaven when you die?"), in contrast to the present-day orientation found in much of the majority world, where community and relationships are focussed more on the present. A Western bias towards the future rather than the present may underpin a "the ends justify the means" approach of some Western cross-cultural workers, which contributes to dysfunctional relationships. This in turn ultimately results in reduced effectiveness and poor missional outcomes.
Clear and rigorous thinking about God's nature and the gospel increases missional effectiveness and resilience for those working in low-resource contexts.
The idea in practice        
To better align their efforts with God's purposes for the world around them, cross-cultural workers can:
Reflect on the nature of the gospel:  what actually is the good news of Christ?
Cross-cultural workers often have diverse and divergent views regarding the gospel. In some cases, it is understood primarily in terms of individual salvation, in which the primary hope of humanity is being saved "from" the world so that they can "go to heaven when they die". In others, the gospel proclaimed by Jesus and the apostles of the early church has been wholly re-framed by post-Enlightenment European problems such as the Protestant Reformation. For others, there is little theological contextualisation of their work, and their efforts have a wholly humanistic emphasis.
Reading widely and deeply regarding God's history with humanity in Scripture as well as genuinely engaging with the views of those who hail from different streams of Christianity (Catholic, Orthodox, or Protestant) as well as Judaism helps us to 'spiral in' on deep insights such as "…he made him to be sin who knew no sin, so that in him we might become God's righteousness" (2 Cor 5:21).
Reflect on the question "what is the primary value of my work?"
I spoke with a physician working at Kijabe Hospital a few years ago after a particularly difficult shift in the Emergency Department, where several of her patients had died. I asked, "What keeps you going when you have days like this?". After a pause she replied that she understood that the primary "gospel importance" of her work was that by treating the sick, she extended their lives so that they might have a greater chance of hearing the gospel and making a decision for Christ. This was what she drew encouragement from.
I was startled. I was prepared to hear that this faithful physician drew strength from Jesus' encouragement "I was sick and you took care of me…just as you did it to one of the least of these…you did it to me" (Matt 25:36-40 NRSV), or perhaps from the exhortation of the Jerusalem apostles to Paul to "remember the poor" (Gal 2:10 NRSV). I was not prepared to hear that she saw her primary value in transactional/salvific terms: how many people she told about Christ, or who were treated and "converted" as a result.
Asking ourselves "what is the primary value in my work" can expose shallow theological thinking, and help us to see more clearly how we understand God and God's purposes for the world. For example, if we have a primarily future-oriented understanding of the gospel (going to heaven when you die) rather than a gospel which also has salvific implication for the present (becoming God's righteousness), we risk demeaning the importance of how we work in favour of what we are delivering (outcomes and metrics).
For more information
 The above is a summary of a paper submitted to and accepted at the Micah Global Triennial Consultation 2018, held in the Philippines 10-14 September this year. The paper can be read here. Publishing details will be made available shortly.
This paper resulted from research conducted by Andy during the completion of his Master of Divinity studies at the University of Divinity in Melbourne, Australia. The research essay resulting from this is a longer, and more scholarly (translation: harder to read) and in-depth version of the Micah paper, and is available upon request.
-A