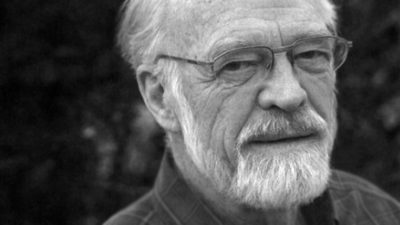 Eugene Peterson died a few days ago. He's well known for writing several books that are required reading for Christian ministry, and of course for writing the popular paraphrase of scripture, The Message. We pray a Psalm each morning with the kids before school, and when I start to read from my own favorite translation, the NRSV, they clamor for The Message instead 🙂 This morning we read
Paint grace-graffiti on the fences;
take in your frightened children who
Are running from the neighborhood bullies
straight to you. (Psalm 17:7)
Brilliant. A few beautiful articles have been written in the last week on his tremendous legacy; they're well worth the read.
I've been a bit quiet inside and out since receiving the news of his passing…reflecting on his life and his profound influence on me. You see, Eugene is one of the reasons we live in Africa.
Here are two of the ways he altered the course of my life, despite never having met personally.
1. Eugene helped me to recognize within myself a tendency to desire achievement and to "do great things". He did this by helping me to see clearly; to understand that in God's reality (that is, in the "real world"), what is of "value" is measured via very different scales than the ones I had been trained to use.
In 2005, I stepped off the USS Maine after a three year Division Officer tour comprising five submarine deployments and 13 months underwater. Mardi and I went to dinner and a movie together, in the throes of the "getting to know each other again" dance that is familiar territory for military families, and we discussed what "life after submarines" might look like for me. I remember not having the excitement or anticipation one might expect a soon-to-be-retired service-member having–instead I felt a weight pressing down on my shoulders; heavy, frustrated, angst-y.
Through his intentional imitation of Christ's "downward mobility", Eugene helped me to recognize that this weight came from the pressure to do something great, significant, important. If I moved into ministry? I needed to start something that was influential and successful. If I stayed in the military? Commanding Officer of my own attack submarine within 15 years. Academic life? I needed a PhD from the best university.
Through his autobiography and his deep book The Contemplative Pastor (containing terrific insights for any vocation, not only pastors), Eugene helped me understand that this pressure to be successful, the drive to be great is supported nowhere in Scripture.
In my own case, a root cause stemmed from what ancient Christians and Jews referred to as "idolatry": worshipping something created rather than Creator. Eugene helped me take off the dirty and cracked glasses through which I saw my future and what was "important" and to see the world as it really is: God's kingdom, breaking through in the small and insignificant, the poor and the broken, through a Saviour who didn't teleport himself around to everyone everywhere when he ministered order to "maximise his impact", but instead chose to walk from place to place in an unremarkable corner of the world with unremarkable people.
…I don't like being viewed as nice but insignificant. I bristle when a high-energy executive leaves the place of worship with the comment, "This was wonderful, Pastor, but now we have to get back to the real world, don't we?" I had thought we were in the most-real world, the world revealed as God's, a world believed to be invaded by God's grace and turning on the pivot of Christ's crucifixion and resurrection. The executive's comment brings me up short: he isn't taking this seriously. Worshiping God is marginal to making money. Prayer is marginal to the bottom line. Christian salvation is a brand preference.

I bristle and want to assert my importance…Then I remember that I am a subversive. My long-term effectiveness depends on my not being recognized for who I really am. If he realized that I actually believe the American way of life is doomed to destruction, and that another kingdom is right now being formed in secret to take its place, he wouldn't be at all pleased. If he knew what I was really doing and the difference it was making, he would fire me. (The Contemplative Pastor, p. 37)
Eugene helped me to understand that while drive and passion can be a gift from God, they can also be idolatrous if not disciplined by and placed in alignment with God's priorities and patterns.
It was partly because of his influence–that the "great" and "successful" can in fact be in opposition to what God is doing–that I was even able to hear God calling us to serve in the majority world one year later. I would never have been able to contemplate quitting high-paying jobs, leaving a life of security and "significance", and taking a 2 and 4 year old to Africa to commence a life of anonymity for the sake of others if Eugene hadn't helped me understand that Jesus teaches this is where real life might be found.
2. Eugene taught me to resist the temptation to leap at every opportunity and to cease measuring the "value" of something by its budget, the number of people it impacted, or how passionate people were about it. It is a lesson I continue to learn, particularly here in Kenya.
Looking back now, I see myself in [my early vocational years] as a Labrador puppy, full-grown but uncoordinated, romping and playful but not yet "under authority", oblivious to its master's commend:  "Sit".  The only verbal signal that the puppy was capable of responding to was "Fetch", which sent him galloping across a field, catching a Frisbee in full flight, and returning it with wagging tail ready for more. [As I matured], I learned to sit. (From 

The Pastor

, p. 247)
In early 2010, I had just completed my work as Program Director of a $403m program of critical infrastructure projects in Adelaide, South Australia. Delivering large "emergency" water projects during a major drought in South Australia was energizing and meaningful: we literally couldn't spend the money being thrown at us fast enough. And follow-on opportunities came fast: I was wooed by two international consultancies to establish and head a South Australia office, and others advised me to set up shop on my own, taking my experience in successful project delivery to help other organisations do the same. The financial benefits were lucrative and the opportunities logical and exciting.
And yet…and yet. A few years prior to this, Mardi and I had had our hearts broken ("ruined" is a better word) for those suffering in the majority world, and had been waiting and praying for the right time and place to go and serve. We couldn't undo this experience, we remembered it, it happened. And so as I considered these opportunities in 2010, a quiet voice inside cautioned me that once I started down the path of running a consultancy, it would be very, very difficult to just drop everything and move overseas. It was a hard decision–when you are wanted, it is all too easy to elevate concepts like "opportunity" and "stewardship of gifts and skills" to the same level as the leading of the Holy Spirit and God's love for the marginalised and suffering.
So, I said "no thank you" to these opportunities, and waited. I wondered if I was being a fool. Two months later, Mardi received an invitation to come and serve at Kijabe Hospital. Six months later, we sold our house and moved to Kijabe.
In hindsight, had I said "yes" to running a consulting firm, it would have been most unlikely to have subsequently felt the freedom to drop everything in the middle of building a business, sell up and move to East Africa. A "yes" to these opportunities in Australia would have been a "no" to Africa. I didn't have that clarity then, only in hindsight can I see that God's quiet voice during the consideration process–leading me to remember what he had already said to us and to "sit"–was a moment of extraordinary, supernatural guidance that would have been easy to ignore. And the course of our lives was altered by that simple choice to say no and wait.
I don't think it would have been a "bad" choice to take one of these opportunities. Certainly, one can have a holy vocation in the business world, and for others it might have been good and indeed wise. But in my case, in our particular circumstance where the Lord had already spoken (through our hearts being broken previously and the Lord speaking to us), in hindsight it wouldn't have been obedient.
Eugene helped me understand that it is hard to learn to sit and not leap at good opportunities. That at times you will feel foolish. Even more so in my current context in the majority world, where vision and enthusiasm are not in short supply, learning to say "no" so that I can say "yes" to what God is inviting me to join him in doing, the work in front of me, focusing on it and delivering it well, takes intentionality and discipline.
I am so grateful for the generous and obedient life of Eugene Peterson.
-A