Connect
Subscribe via email
The simplest way to keep track of our work is to subscribe to the monthly digest.  This is a succinct summary of our writings posted in the last 30 days.  To keep from sending you too many emails, we deliver the digest just once a month.  We promise to protect your privacy, and you are free to unsubscribe at any time.
Got Facebook?
Like our Steeres in Kenya page for regular updates on your newsfeed.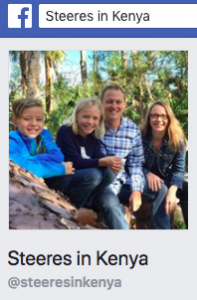 Got Twitter?
Follow @mardi_steere for global health leadership conversations or @andysteere for thoughts on theology.
Want to contact us?
You can contact us by commenting on any of our posts – just let us know you'd like us to contact you, and we'll respond as soon as we can!
You can send regular mail to:
Andrew & Mardi Steere
c/o AIC Kijabe Hospital
PO Box 20
Kijabe 00220
KENYA
If you want to send us anything bigger than an envelope, click here for some tips!